The Forest Preserve Foundation events offer a great way to get outdoors, support the Foundation's mission, and meet other people, like you, who value the natural wonders of the Forest Preserves of Cook County.
2020 EVENTS
SAVE THE DATE: THURSDAY, OCT. 22, 9-10:30 a.m.
"Racial Equity and Access to Nature"
featuring a live discussion with conservation advocates from across the country and Forest Preserves of Cook County, moderated by Forest Preserve Foundation Staff.
Register on Eventbrite
https://www.eventbrite.com/e/annual-symposium-tickets-123499675855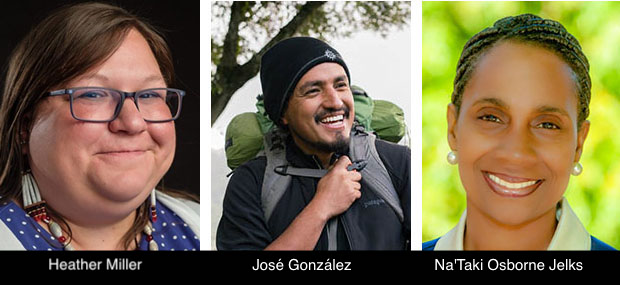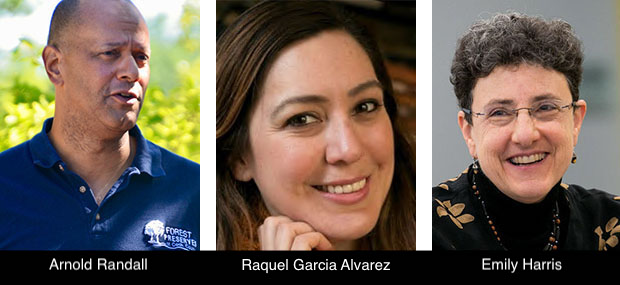 Hear from a panel of thought leaders and experts from across the country and the Forest Preserves of Cook County during a topical and engaging discussion on equity in the outdoors. This 90-minute virtual event will address ways to make outdoor recreation more equitable and diverse, opportunities for enjoying nature and more.
Advocates Panel
Heather Miller, Executive Director American Indian Center
Heather Miller is an enrolled member of the Wyandotte Nation from Oklahoma and the Executive Director of the American Indian Center in Chicago. She began her professional career working for Hopa Mountain in Montana where she helped Native Nonprofit organizations develop their capacity. She then worked for the Seattle-based native American Foundation Potlatch Fund, where she continued to train Native organizations on capacity building and taught non-Native Foundations how to work appropriately with Indian Country. Heather currently serves as a Board Member and Program Committee Chair for the Chicago Cultural Alliance.
José González, Founder, Latino Outdoors
Jose Gonzalez is a professional educator with training in the fields of education and conservation. His work often employs a variety of artistic endeavors, exploring the intersection of nature and culture. Jose navigates his identity of "Green Chicano," balancing the roles of Conservationist/Environmentalist, Chicano, and educator, as well as aspects of his personal life as an illustrator. Ultimately, Jose seeks to connect with people and strengthen communities around issues of education, conservation, and culture.
Na'Taki Osborne Jelks, Ph.D., MPH, Assistant Professor, Environmental & Health Sciences
An associate professor at Spelman College, Na'Taki Osborne Jelks also is the manager for Community and Leadership Development Programs for the National Wildlife Federation and chair of the West Atlanta Watershed Alliance, an organization committed to ensuring environmental justice in southwest and northwest Atlanta's African-American neighborhoods. Osborne Jelks is a Senior Fellow with the Environmental Leadership Program, and is co-founder of the Center for Environmental Public Awareness, a non-profit providing environmental education, development, and diversity training. She is  working on a book about women of color to the Environmental Justice Movement.
Forest Preserves of Cook County Panel
Arnold Randall, General Superintendent, Forest Preserve District of Cook County
Arnold Randall was appointed in 2010 by Forest Preserve District of Cook County President Toni Preckwinkle to head the Forest Preserves of Cook County. During Randall's tenure, the Forest Preserves has made notable strides in becoming a more transparent, accountable and strategic government agency. Randall previously served as director of the Office of Civic Engagement at the University of Chicago and commissioner of the City of Chicago's Department of Planning and Development.
Raquel Garcia-Alvarez, Stewardship Program Coordinator
Raquel García-Álvarez is the Stewardship Program Coordinator for the Forest Preserves of Cook County, in which she supports the hundreds of volunteers who steward over 90 Preserves. She believes in connecting people to nature and working with diverse communities, and shares this passion as a member of the Preserves' Racial Equity Inclusion and Diversity Committee. Raquel has an M.A. in environment and natural resource management from the University of Iceland in Reykjavík and an undergraduate degree in animal science from the University of Illinois at Urbana-Champaign. She is a founder and leader within the Environmentalists of Color Network.
Emily Harris, Conservation and Policy Council; Principal, Harris Strategies, LLC
Emily Harris is a consultant to the Presidents' Council for Disability Inclusion in Philanthropy and other philanthropies and non-profits, providing strategy, program design and disability inclusion services. As vice president of Metropolis Strategies, she led programs focused on regional economic growth, open space conservation, early childhood education, and served as Executive Director of the Burnham Plan Centennial. Emily serves on the Forest Preserves of Cook County Conservation and Policy Council, the Leadership Greater Chicago Fellows Association Board, the Chicago Metropolitan Agency for Planning Economic Development Committee, the LISC Chicago Advisory Board. She has a B.A. from Oberlin College and an M.A. from the University of Chicago.
Jennifer Schwarz Ballard
Charles Bernardini
David Brint
Hon. Scott Britton
Christopher Burke
Kathy Deane
Catherine Game
Helene Gayle
Eleanor Grumman
Daiva Gylys
Andy Johnson
Howard Learner
Rana Lee
Carolyn Williams Meza
Hon. Kevin Morrison
Hon. Sean Morrison
Greg Mueller
Charles O'Leary
Tanvi Parikh
Anngie Richter
Theresa Salus
Beth Spurgeon
Deborah Stone
Michael Sutton
Karen Tharp
Sophia Twichell
Jacqui Ulrich
Mae Whiteside
Michael Witte
SYMPOSIUM SPONSORS
Harold M. and Adeline S. Morrison Family Foundation
Walder Foundation
Annual Symposium
This special event draws civic and business leaders from around the country.
Read about our 2019 Symposium here.