Year after year, Billy Casper Golf offers unparalleled in-kind support for the Conservation Cup. This year the organization stepped up in a huge way, making a title sponsor $15,000 cash donation to the Foundation's annual major fundraising event.
"These are tough times and we know that the Conservation Cup is facing an uphill battle with the event this year," Bill Rehanek, Senior Vice President, said, explaining the increased support decision. "Given our relationship with the Forest Preserves of Cook County, our long-standing relationship with the Conservation Cup, our understanding of their mission, the needs that they have, we felt it was the right thing to do to step up this year and try to fill some of that void."
A long relationship
Foundation President Shelley Davis acknowledged the long relationship and what it means. "Over the years, they have provided thousands of dollars of in-kind support," she said after getting the news from Rehanek. "They have solicited sponsors on our behalf, and they have purchased hole sponsorships. We are so thrilled and grateful for this commitment to our work and mission."
Currently operating under the name Antares Golf, the course management company will announce a new name in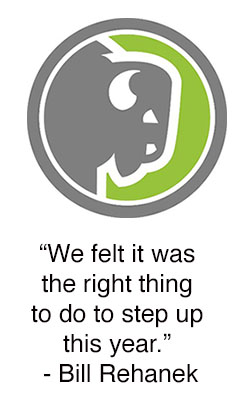 September, explained Rehanek, who has been with the organization for almost 18 years.
Rehanek went on to say that "golf has been mostly spared during the pandemic. Obviously, we had a period in Illinois when all courses were closed, a period in May when there were heavy restrictions. But the weather has been very favorable. We've been open since the beginning of June. There aren't a lot of competing recreational opportunities, so the golf courses have been pretty busy. And we just looked at and decided it was the right thing to do" to increase support for the Foundation.
Safety first in practice
Those participating in the Conservation Cup should be assured that the staff at George Dunne are following strict safety guidelines. Those include requiring everyone to wear masks in the clubhouse and limiting indoor seating
to people who are dining only. The course is accommodating single-rider carts where they can, Rehanek added. "We're putting out as many carts as we can. And carts are sanitized with bleach after each use."
George Dunne has "a very regimented approach to sanitation with all of the touch points in the restrooms," Rehanek said. There are no rakes in the bunkers. Flags in hole to stay in place. A block of Styrofoam is put into each cup to keep the ball from going all the way to the bottom, "so it's easy to remove without touching anything."
Ready for tee-off
The ninth annual Conservation Cup takes place on Sept. 30 this year, two weeks later than usual, but it still promises the same fun-filled day on the course that golfers expect. And Rehanek, who is always out on the course to welcome everyone at tee-off, is looking forward to his team hosting the fundraiser.
"It's just been really enjoyable to see the event grow and prosper," Rehanek said. "It is the largest event we host every year within the Forest Preserve portfolio and one of the largest events we run in the entire organization in terms of dollars raised for charity, so it's been great to be a part of it and help the Foundation thrive."