Naturally, with the spring season reaching its peak greenness, every golfer wants to hit the links. Golf is still happening in the Preserves, with some restrictions because of the COVID-19 pandemic and statewide orders to maintain safe and healthy distances.
For the Foundation, golf plays a key role in our yearly events calendar. The Conservation Cup is our primary fundraiser—and it will go on this September at a slightly later date. We look forward to hosting friends and supporters for another fun day at George W. Dunne National in Oak Forest.
Even with the restrictions, Forest Preserve Golf management still wants players to enjoy Cook County  public courses like Dunne. The new rules are designed to put players' safety first. With a new date of Sept. 30 set for the Foundation's ninth annual Conservation Cup, we spoke with Host Committee member Josh Geppi, who is also the general manager of George W. Dunne National, about the current status of Forest Preserve Golf.
"We have a really big golf course and we've got plenty of space out here," Geppi says to assure players that everyone can maintain a safe distance on the course.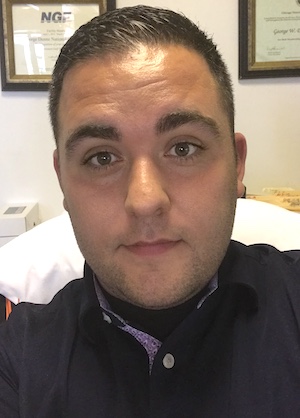 Geppi answered a few more questions about the current state of golf on Forest Preserves courses:
Q: If someone wants to play golf, explain what's required.
Geppi: They used to be able to call, make a tee time or make a tee time for their next visit while they're here. But right now, everything goes through either our 1-800 number, a reservation center that we have where players can prepay and book on our website, or a third-party site like Golfnow.
Q: Do players have a certain amount of time they can be on the course?
Geppi: With the spacing— only two golfers every 15 minutes — pace of play hasn't been a problem at all. Generally speaking, a round of golf should take between four hours and 15 minutes and four and a half hours. But with so few people out there, pace of play has gone down because there's nobody holding you up at any given time.
Q: Like the state, does Forest Preserve Golf have a phased plan?
Geppi: Right now, we're following in the footsteps of whatever [Gov. Pritzker] hands down. What we're expecting that would be in the next phase is being allowed to put foursomes out in single-rider carts. Right now, it's walking only [on the course], unless you have some kind of handicap disability or physical limitation.
Q: And what about the use of masks and hand sanitizers?
Geppi: We have sanitizer everywhere. In the bathrooms, we have antibacterial soap. There's a table set up with hand sanitizer that players have to use on the way in and on the way out. We always clean the cart, but now we actually have to sanitize them as well.
Q: What does that involve?
Gepp: We have a pump sprayer in which we put water and bleach—three-quarters of a cup of bleach and one gallon of water makes a disinfectant. And we spray the carts down, let it sit, and then we wipe all of them down and then we clean them normally.
Q: There no doubt is a list of rules on the website.
Geppi: There's a full list of frequently asked questions, do's and don'ts. And then when you book a tee time online, you actually have to acknowledge all the rules before you can complete the booking. The frequently asked questions can be found here.
This conversation has been edited for clarity.