Forest Preserve Foundation Board of Directors
OFFICERS
Jim Beck, Chair, Executive Relationship Manager, Nationwide Retirement Solutions
Theresa Salus, Vice Chair, National Field Service Manager, Co-op Experiences, REI Co-op
Claudette Grant, Treasurer, Director, BlackRock
Jeffrey Gray, Secretary, Director, Barnes & Thornburg LLP
---
Dr. Michael Adkesson, President & CEO of the Chicago Zoological Society, Director of Brookfield Zoo
Stuart A. Cohn, Chair emeritus, Attorney, Law Offices of Stuart A. Cohn
Tom Lanctot,  CEO, Catholic Investment Services
Howard A. Learner, President and Executive Director, Environmental Law & Policy Center
Rana Lee, Principal, SmithGroup
Kandace Lenti, Managing Director, Executive Vice President, Government, Nonprofit & Healthcare Banking, Wintrust Bank
Mark Lester, Senior Vice President, Commercial Middle Market Team Lead, Fifth Third Bank
Tom Livingston, Vice President, Government Affairs, CSX Transportation 
Arnold Randall, General Superintendent, Forest Preserves of Cook County
Eric Rockhold, Managing Director, Co-Head Central Region, Bank of America Securities
LeeAnn Tomas-Foster, Chicago City Executive, Arcadis U.S., Inc
Ankur Udani, Director, PwC
Representing the Forest Preserve District
Eileen Figel, Deputy General Superintendent, Forest Preserves of Cook County
Cathy Geraghty, Director of Strategic Initiatives, Forest Preserves of Cook County
---
Board news
JUNE 2023: Board Dr. Michael Adkesson, Kandace Lenti and Ankur Udani Named to Board; Spotlight Interview with Ankur Udani
MAY 2023: Board Visits River Trail Nature Center, Site of CCLC Youth Program Funding
JANUARY 2023: Forest Preserve Foundation 2022 Annual Report Celebrates Fun and Hard Work
JUNE 2022: Rana Lee Shares Memories of a "Bigger Backyard" & Why She Supports the Forest Preserve Foundation
JUNE 2022: Forest Preserve Foundation Awards $130,000 in Grants for Two Youth Conservation Corps Programs
FEBRUARY 2022: Forest Preserve Foundation 2021 Annual Report Offers Hope and Much to Celebrate
SEPTEMBER 2021: Claudette Grant, Rana Lee and Eric Rockhold named to Foundation Board of Directors
MARCH 2020: Debra Walker Johnson named President & Executive Director
NOVEMBER 2019: Theresa Salus and LeeAnn Tomas-Foster named to Foundation board of directors
MARCH 2019: Jim Beck and Stephen Friedman join Foundation board
MARCH 2018: Kerri Daniels, business development director, joins Foundation's board
FEBRUARY 2017: Two Business leaders join Foundation's board 
JULY 2016: Corporate leaders join the Foundation board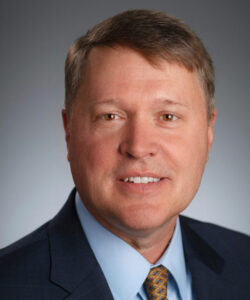 Jim Beck, Board Chair
Mr. Beck is serving his second term as Forest Preserve Foundation Executive Committee chairman.
He is an Executive Relationship Manager for Nationwide Retirement Solutions in the Central Region. Mr. Beck's career in the financial services and retirement industry working with public sector and corporate clients throughout Chicago spans over 35 years.
The Glenview resident has been actively involved in many Chicagoland charitable and civic organizations, including Misericordia Heart of Mercy, After School Matters and the Chicagoland MS Society. Previously, he has served as a board member for Chicago Business Institute, The Kohl Children's Museum of Greater Chicago and also served as treasurer of the Loyola Academy Hockey Club.
Mr. Beck is a life-long resident of Cook County and a former Forest Preserve employee. "Also, as an avid user of the forest preserves, I firmly believe in its mission of protecting and restoring the treasured habitats of the Preserves as well as supporting youth leadership programs like the Conservation Corps."
Mr. Beck has a bachelor's degree in Finance from Northern Illinois University.