By Sarah Dennis
Cycling on the North Branch Trail through the Forest Preserves of Cook County brought incredible joy to Beth Katsaros and me, her eldest daughter, during the summer of 1998. My mom and I were training for the six-day, 500-mile bike ride from Minneapolis/St. Paul to Chicago to raise money for organizations supporting people living with HIV/AIDS.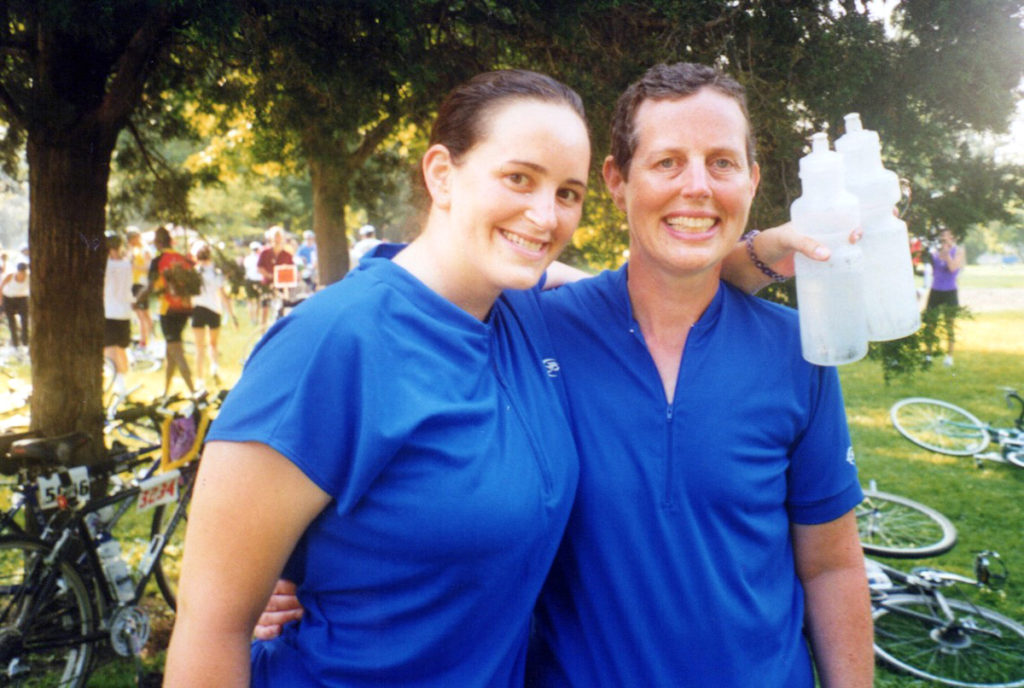 From our home on the Northwest Side of Chicago to the North Branch Trail at Devon and Caldwell Avenues to the Chicago Botanic Gardens and back was a 40-mile trip.  We rode the trail together several times per week as we trained.  We did the ride, which raised millions of dollars for various non-profits and social service agencies, with about 2,000 other people, including two of my mom's nine siblings, and my brother, Matt.
Our mom, despite already having had a mastectomy, chemotherapy and radiation for breast cancer was a fighter. Her strength and commitment to social justice inspired everyone who knew her. Unfortunately, her life ended prematurely at the age of 49, in January 2001, after a five-year battle with cancer.
A love for the North Branch Trail
Our mom loved the North Branch Trail and rode many hundreds of miles on it between 1996 and 1999.  While I was biking on the trail in her honor this past Mother's Day, I saw a bench where I'd never seen one. Near it was a sign with the words "Adopt-a-Bench" and the Forest Preserve Foundation's website below it. The bench looked brand new, the concrete holding it in place recently poured.
I quickly proposed to Matt that we arrange to have the bench dedicated to our mom.  He loved the idea. Our younger sister, Kathryn, and Dad liked the idea, too.
Once we all agreed, I contacted Shelley Davis, president of the Forest Preserve Foundation, and began the very simple process of making a donation in our mom's memory to have a plaque added to the bench in mom's honor.
We only have one audio recording of our mom's voice as she died before the era of smartphones and iPads. On this recording, she's having a conversation with her brother Paul about death and whether there's an afterlife. They both concur that they didn't know, but she said that if she could communicate with us from after death, it would be through the crows. She said, "The crows always remind me of the bike trail," referring to the part of the North Branch Trail that winds through Harms Woods.  For more than 18 years, I have kept an eye and ear out for crows, and any messages Mom might possibly send to me.
A fitting memorial for Mom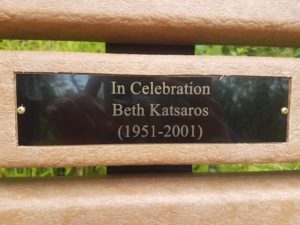 Biking the trail on Mother's Day and seeing the bench—and then having the incredible opportunity to have her name memorialized on it in a place that she loved and brought her so much joy—has meant the world to me and other family members and friends who knew and loved her.
I am a social justice organizer and activist, inspired by my mom at a young age. We would both be remiss if we didn't acknowledge that the Forest Preserves land was once the ancestral homelands of The Council of Three Fires: the Ojibwe, the Potawatomi and the Odawa Nations of Native Peoples.  When I bike the trail now, and sit on "her bench," I send thanks and pay respects to the ancestors and their descendants who cared for this land for centuries.
Thank you, Mom, and thank you, Forest Preserve Foundation.
Sarah E. Dennis, Ph.D., is an adjunct professor of education at the University of Illinois-Chicago, coach, and researcher/writer of a forthcoming book about the first 40  years of the Chicago Children's Choir. She is also an avid cyclist. More information about her can be found on her website.