On Thursday, September 9, 2021, nearly 100 golfers joined the Forest Preserve Foundation for its 10th Annual Conservation Cup. The weather could not have been better, with bright blue skies embracing the lush green of the beautiful George Dunne International Golf Course. Following the challenges of the past two years, it was wonderful to see golfers, along with some non-golfers, relax, have fun and connect in this Forest Preserve gem.
This year's Conservation Cup Committee, chaired by Rana Lee, Courtney Shea and Eric Rockhold, created an event that succeeded in both fundraising and raising fun. The event raised $220,000, breaking the Conservation Cup fundraising record.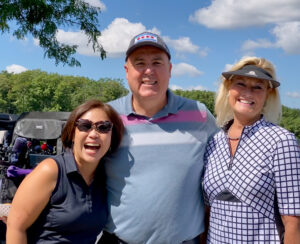 "Aside from our fundraising goals to support the Conservation Corp program, we want everyone to have F-U-N! Given that 2020 was challenging for so many of us, we want to provide golfers with a beautiful day in nature. We want everyone to laugh heartily and leave with fond memories…and of course, come back next year," said Rana Lee, Co-chair of the Conservation Cup and new board member, when she talked with us about her goals for this year's Cup.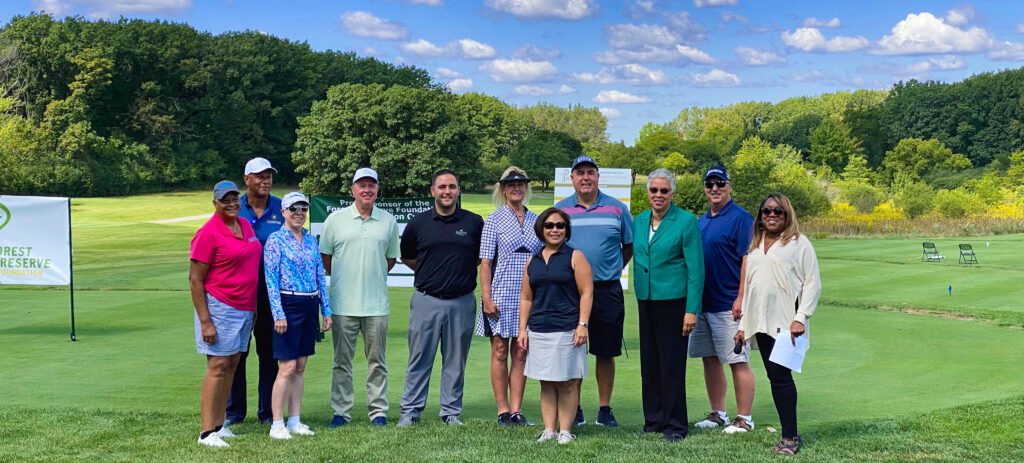 Golf games kicked up the festive atmosphere, offering extra ways to have fun while contributing to the Foundation's mission. During registration, one could hear shouts of joy (and sighs of near misses) from the Putting Contest across the path.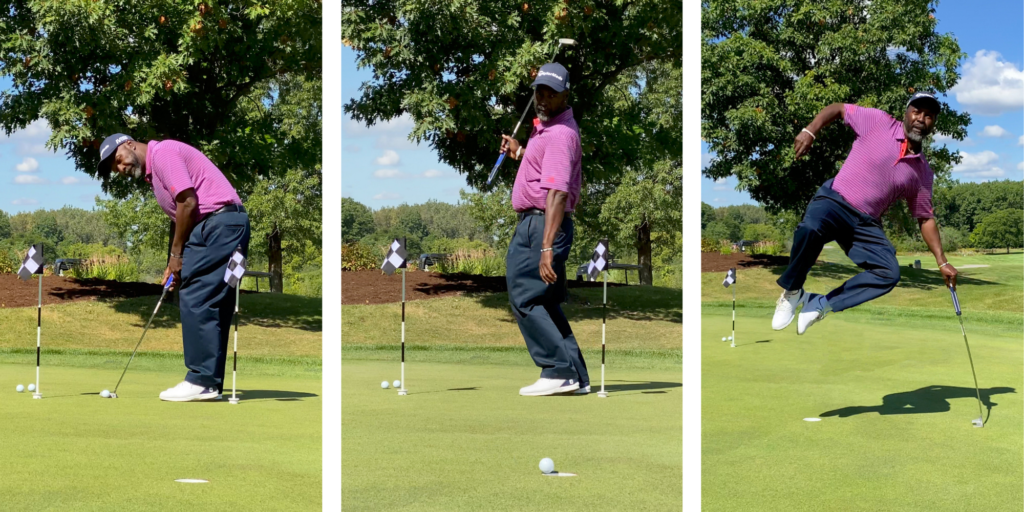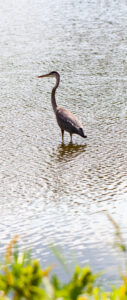 Forest Preserves staff brought a Barred owl and a Fox snake, both native species to the area, to meet golfers on their way to breakfast. And a Great Blue Heron showed up of its own accord, gracing the waterways of the Preserve.
Before the carts took off, Foundation President Debra Walker Johnson, together with Cook County Board President Toni Preckwinkle and General Superintendent Arnold Randall, thanked the generous sponsors for their support.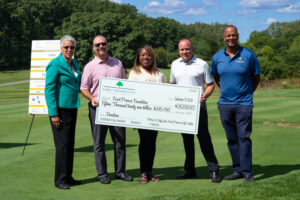 In addition to their own sponsorship, lead sponsors Indigo Golf provided a wonderful surprise by presenting an unexpected check of $15,000 collected from donors and patrons of the golf course. Indigo's parent company, Troon, also matched that $15,000 with an additional $15,000. With this good news and the company of friends, golfers took off for the course.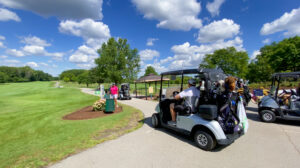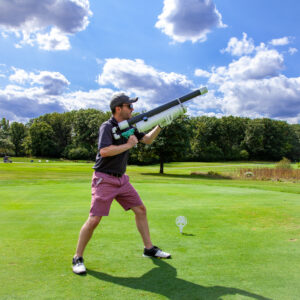 On the course, more games contributed to the lighthearted playfulness of this day. Golfers enjoyed the dramatic power of the Air Cannon and the football inspired sports mash-up challenge of the Hit the Wedge.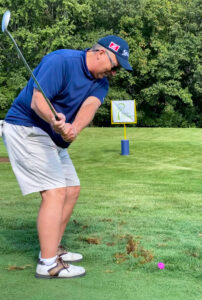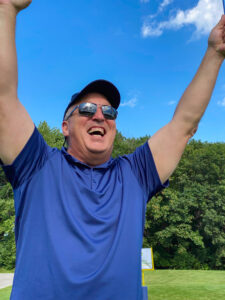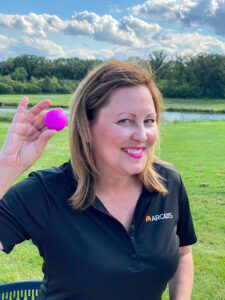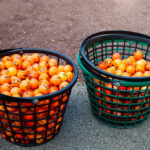 This year saw a record number of balls sold for the Helicopter Ball Drop. This game allowed anyone, including non-golfers and people who couldn't make it to the event, a chance to win $500 if their ball landed closest to the first hole.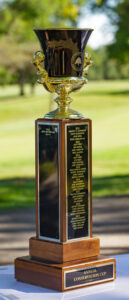 The winning foursome was Ben Biles, Eric Rockhold, Jason Kissane and Phil Culpepper. The Conservation Cup trophy will be etched with their names and remain on display year-round at the George Dunne International Golf Course.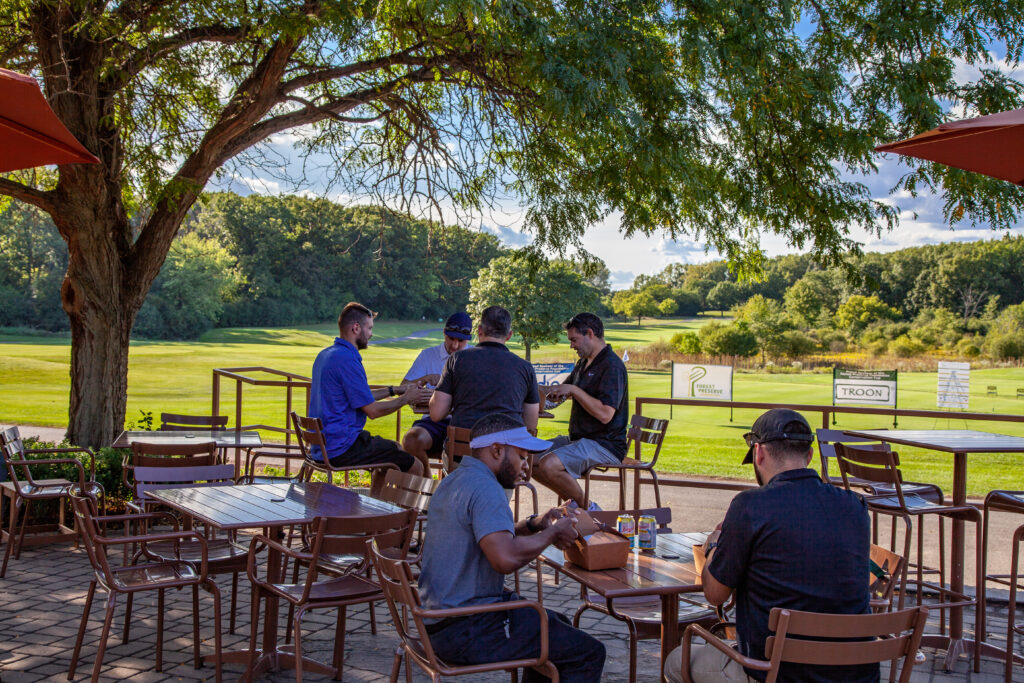 After the on-course games ended, a DJ was on hand to set the party mood as people gathered under the tent for drinks and dinner. Celebrity chef Dominique Leach from Chopped catered the event, serving her delicious barbecue for all to enjoy. Old friends and new connected and kicked back. As the sun set over this gorgeous course, remaining guests gathered by the fire pit on this pleasant evening.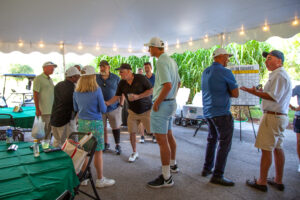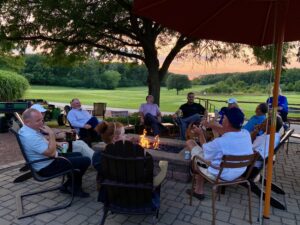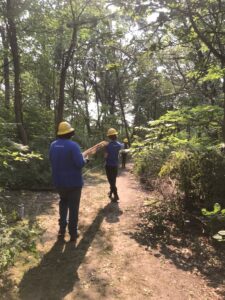 We are truly grateful for supporters who made this tremendous success possible. You provide the resources needed to restore the preserves to full health and foster the next generation of environmental advocates and young leaders. By investing in programs and opportunities that are proactively inclusive and reflective of the diversity of Cook County, together we support both preserves and people in our communities.
The Foundation looks forward to seeing everyone again next year!
Be sure to mark your calendars for the 11th Annual Conservation Cup on
September 8, 2022