Through their $5,000 donation to the Forest Preserve Foundation, a Champaign couple with deep ties to Chicago is supporting an expansion of the Forest Preserves Conservation@Home program into nine schools in Cook County.
The gift by Warren Lavey and Dr. Holly Rosencranz will fund a grant that allows the schools to start or expand pollinator gardens. The Forest Preserves adopted Conservation@Home, a program of The Conservation Foundation, in 2016. Its goal in Cook County is to "Bring the Forest Preserves beyond its borders."
"We are grateful for Warren and Holly's gift to expand the Conservation@Home program to more schools," Foundation president Shelley Davis said. "We know that this exposure will have influence on the next generation's understanding of trees, pollinators and native gardens as a solution for climate change."
Chicago-area roots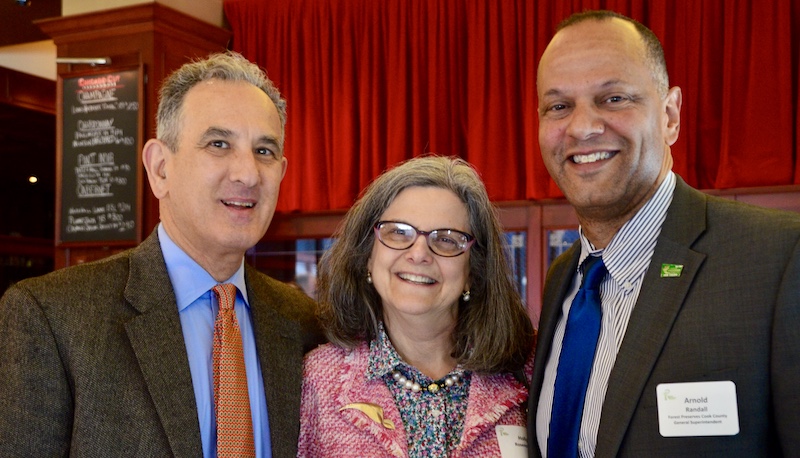 Lavey and Rosencranz, who both grew up in the Chicago area, are fond of the Forest Preserves and share a deep commitment to environmental sustainability. They see gardens as one defense against climate change.
"Hearing about Conservation@Home really just fits with both our respect for the Forest Preserve District and our interest in promoting conservation," Lavey said. "Holly and I have been interested in sustainability, particularly the health impacts of climate change, for several years. We have been donors for several conservation efforts, including planting trees along the 606 Trail and in Urbana."
Lavey retired from the Chicago office of an international law firm in 2010. He works in environmental law, policy and health with government agencies and nonprofits, and teaches at the University of Illinois in Chicago and Champaign.
Rosencranz is a medical doctor with a master's in public policy. Her work has evolved from clinical practice to teaching in the University of Illinois medical schools. Additionally, she actively promotes policies in training doctors and community health. She is a master gardener who recognizes the health benefits of gardens, parks, and forests.
"We grew up going to the Forest Preserves in Cook County, including the Chicago Botanic Garden," Lavey said. "We recognize how important the work of the Forest Preserves is in making Cook County a pleasant place to live and contributing to sustainability, locally and globally."
Motivated by climate change
The couple's love for the area and interest in sustainability gives them a keen awareness of how climate change is affecting the region. Seeing the "health impacts of climate change, which are already occurring in Cook County" is one motivating factor in their philanthropy, Lavey said.
"The seasons of asthma and allergy are longer and more intense," he added. "We have higher summertime temperatures, more heat waves. Also infectious diseases like West Nile and Lyme disease are much more prevalent in Cook County than they were 20 years ago."
Lavey and Rosencranz believe it's important for everyone to do what they can to increase community awareness of these health impacts and increase the training of the medical professionals and other health care workers.
Rosencranz said she is "trying to incorporate climate education for medical students who are going to be on the front lines of taking care of patients." She said it's important to "educate our children from grammar school to professional school."
At the Forest Preserves, climate change is a concern, too. The Preserves is home to over 950 native plant species and over 100 endangered and threatened species. These species are being threatened by the negative impacts of a changing climate. These negative impacts include increased flooding and erosion, and increased invasive species and plant diseases killing off native and endangered plants.
Threatened species in Preserves
The Forest Preserves "Sustainability & Climate Resiliency Plan" calls on the Preserves to be even more ambitious in its efforts at mitigation and adaptation, Anthony Tindall, policy and special projects manager for the Preserves, said. "To this end, the Forest Preserves is going to be seeking additional support for our habitat restoration and Conservation@Home programs. These two efforts will make the Forest Preserves more resilient as a changing climate continues to impact the region."
Lavey and Rosencranz met Tindall about two years ago during a meeting in Washington, D.C., organized by the Union of Concerned Scientists. That led to their learning more about the Forest Preserves.
Since then, their commitment has grown. Lavey helped draft and review the sustainability and climate resiliency plan, and organized students to assist on various aspects of sustainability for the Preserves.
"We're doing what we can on conservation because trees, native planting and wetlands help reduce the greenhouse gases in the atmosphere," Lavey said. "We're thrilled to be able to support a program that addresses the landscaping of schools and provides opportunities for students to be involved with planting trees and native plants."