By Madelyn Wilson and Rachel Urich, Forest Preserve Foundation interns
It's late July, a mild and sunny morning. A crew of teenagers is cutting and piling buckthorn near the entrance of Possum Hollow Woods.
They are part of the Forest Preserve Experience, a five-week summer internship program.
The Forest Preserve Experience Program exposes teenagers to conservation work and a range of outdoor recreational activities. Youth in the program spend about 40 percent of the workweek learning about topics such as environmental justice and local wildlife. They've also had a chance to try many recreational activities—archery, rock climbing, camping and canoeing—offered throughout the Preserves.
This work/fun balance invites them to experience the many opportunities available in the outdoors.
As the Foundation staff met and talked with them, we learned that before joining the program, many had never visited a forest preserve. In many ways, the Experience can be life changing for these youngsters.
The Youth Conservation Corps, the Forest Preserves and the Housing Authority of Cook County are program partners. This summer 84 high school youth from the south and west suburbs of Cook County are participating. They come from Bellwood, Justice and Hillside.
The Forest Preserve Foundation made a grant of $75,000 during its spring cycle to fund the 2018 program.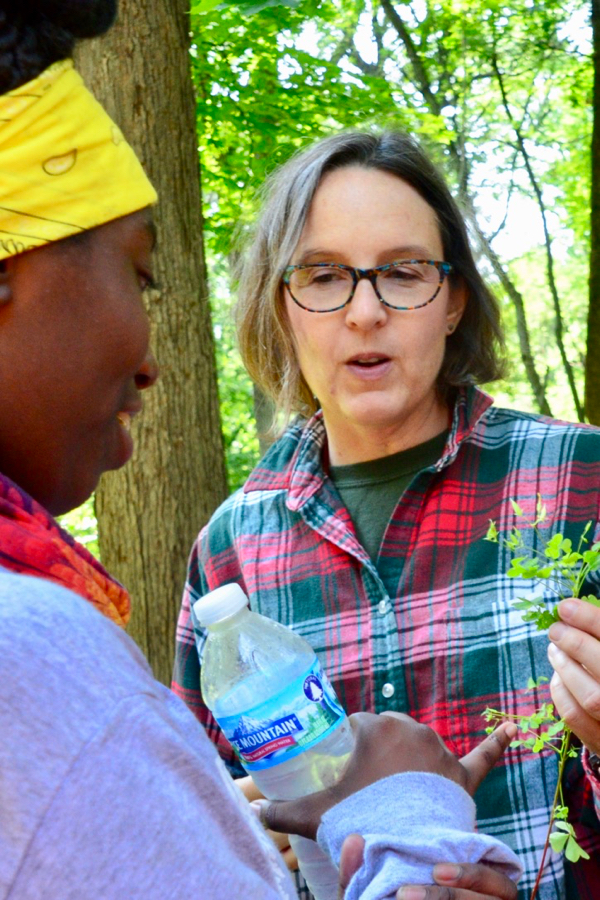 Alice Brandon, resource programming manager for the Forest Preserves, who manages partnerships with conservation corps providers spoke about the program's goals and explained how it differs from other high school summer youth programs in the Preserves. The Experience program is shorter and focuses more on fun and nature-based recreation, she said.
Additionally, the program specifically recruits youth from low-income households whose families utilize the Housing Authority of Cook County. Unlike participants in other programs, teens accepted into the Experience program may not be as well-acquainted with the outdoors and conservation work, Brandon told us.
This is a growing program and is on only its third year.
Funding also comes from the Forest Preserves of Cook County and the Housing Authority of Cook County. Not only does the program provide a valuable summer experience, the youth earn money because these are paid internships.
Students who participate in this program leave with a deeper appreciation for the outdoors and for nature, Melissa Horther, program manager of all Forest Preserve Experience crews, told us. Many youth actually transfer into the other, longer program the following summer because they want to to become more involved in conservation work. That program focuses more on technical habitat restoration work skills.
During this visit, we met 18-year-old twin brothers, Johnathan and Roshaun Burbridge, recent high school graduates from suburban Hillside. They both participated in the other program last year. Both brothers said the best part of participating in the program is meeting new people and spending time outdoors. "Just being in nature is amazing," Roshaun said.
The brothers both will be attending Triton, a community college in River Grove, this fall.  Johnathan said he is not completely sure what he wants in a career yet, but Roshaun is quite certain be wants to become an electrical engineer.
The brothers' enthusiasm and their new-found appreciation for working in the Preserves confirmed for us why the Forest Preserve Experience makes a difference in the lives of Cook County's young people.