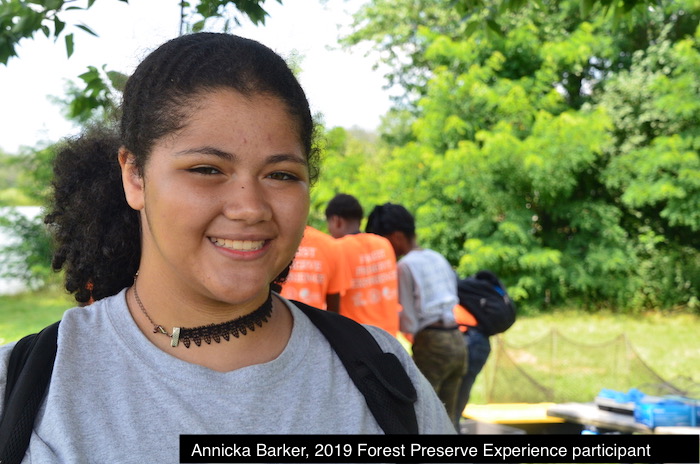 A $100,000 grant from the Forest Preserve Foundation will help underwrite increased wages for Forest Preserve Experience crew members this summer.
"We are so pleased to support young people who rely on summer employment to help themselves and, in many cases, their families meet financial needs," said Forest Preserve Foundation President Shelley A. Davis. "The Forest Preserve Experience (FPE) program is unique. It addresses the needs and challenges particular to young women and men residing in Cook County who experience unemployment and barriers to employment."
The funding comes via a new grant recently secured from the Central Indiana Community Foundation, which previously has supported Forest Preserve Foundation-backed youth conservation programs.
Past program support
Started in 2016, FPE is tailored as an introduction to conservation work for young people who are served by the Housing Authority of Cook County and is many participants' first employment experience. The Forest Preserve Foundation made a grant of $75,000  to support the 2018 program. In 2019, the Forest Preserve Foundation, with support from the Central Indiana Community Foundation, provided 112 paid FPE internships to young people in Cook County.
"When I go to the Forest Preserves Experience graduation event at the end of their summer, I hear about how much the participants have learned and I see how they have bonded as teams," said Forest Preserves General Superintendent Arnold Randall. "And I know that their contribution to improving the Forest Preserves every year is immense. It's wonderful that this new grant will offer even more to the hard-working young men and women who join FPE."
Wages for participants this year will be increased from $10 an hour to $13 and hour for crew members and from $13 an hour to $14.50 an hour for assistant crew leaders. FPE is a nationally award-winning program that provides 5-weeks of summer employment for high school youth and young adults (ages 14 to 20) whose families utilize the services of the Housing Authority of Cook County (over 85% of participants are African American). Participants reside in communities that suffer from high unemployment rates.
FPE prioritizes the safety and health of youth participants and adult staff members. Due to the COVID-19 pandemic, the program's logistics have been modified from previous years, introducing new health and safety precautions. Because of these issues, a blended virtual and at-home program will provide opportunities for youth to still achieve the five learning objectives of the traditional FPE program. Youth will still be able to connect with peers and learn about nature close to home and in the Forest Preserves.
Changed by Experience
Every year, FPE demonstrate its impact on participants—and their families. Annicka Barker, a 2019 crew member, shared with her mother and sister the fundamentals of her new-found passion for the natural world throughout the five-week program.
In an email sent to the Forest Preserve Foundation, Annicka's mother, Evelyn, explained how FPE boosted her daughter's confidence and self-esteem, as well as how the knowledge Annicka shared fostered her own interest in the Forest Preserves and the value of environmental protection: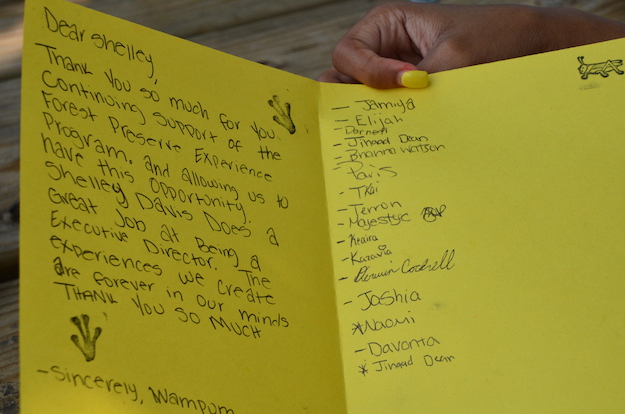 "…Neither of us were outdoor persons and we had no knowledge of what [the Forest Preserves] were for. We learned first off that [the Forest Preserves of Cook County] are the largest in the United States of America. We also learned about invasive species or plants that inhabit the forest and choke out the life of other plants, which are good for us. These plants or invasive species would take over the forest and affect it so that it damaged the ecological system as we have grown to depend on."
Evelyn mentioned how this experience changed their family's perspective of nature, writing, "[The Forest Preserve Experience] allowed [Annicka] and I and her sister to see a different world. A different avenue to keep busy and out of trouble and to view the beauty of just having a good day outside."
The Housing Authority of Cook County helps fund the FPE program and recruit Cook County youth that it serves. Friends of the Forest Preserves provide content expertise and personnel support for conservation internships throughout Cook County.
Forest Preserve Experience is a unique application of the Conservation Corps model, providing an introductory-level conservation experience for young people who are just beginning their relationship with the Forest Preserves of Cook County. This program takes extra care to focus on building not only valuable conservation skills, but soft job skills like timeliness and interpersonal communication, which are relevant in any field youth decide to ultimately pursue.