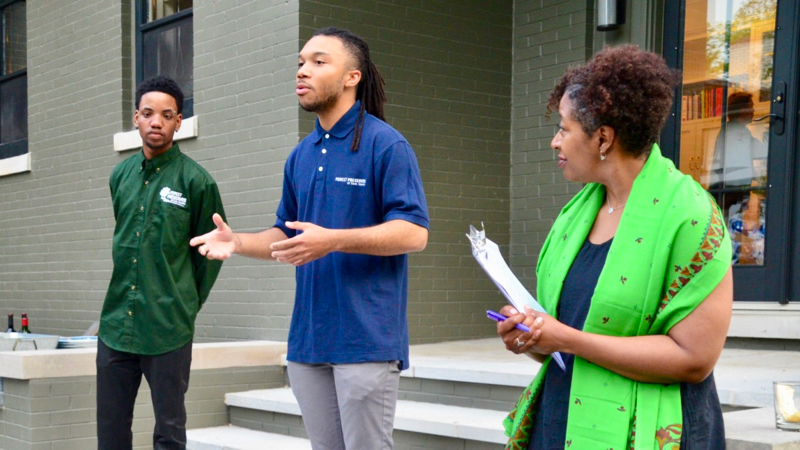 Foundation board member Eleanor Grumman hosted a gathering at her North Shore home recently to showcase  the Forest Preserves' impact on the Chicago region — and how experiences in the Preserves can change the lives of young people like Dyrell Williams and Brian Clay.
The 30 or so guests heard stories from Dyrell and Brian, childhood buddies who joined the Conservation Corps together and have gone on to work for the Chicago Park District and have career aspirations to be engineers.
Forest Preserves General Superintendent Arnold Randall also spoke about the $1.5 billion economic impact the Forest Preserves have on the region.  With 70,000 acres of preserved public lands, the Preserves provide bird watching, hiking and biking trails, water sports and numerous other outdoor opportunities, he said. They also bring crucial storm and rain water management benefits to those who live in the suburbs. "Nature is for everyone," he said.
Telling those gathered how they can help support the Preserves, Randall urged them to "use the Preserves, tell other people about them. Support the Foundation that supports us."
The Foundation is the philanthropic partner for the Forest Preserves of Cook County. Foundation grants underwrite conservation leadership programs that have put Brian and Dyrell on career paths they once never imagined.
Guests also had a chance to hear from Cook County Commissioner Larry Sufferdin, who represents the area where the event took place.   "When you fly into O'Hare, you see the emerald necklace that is our forest preserve system," Sufferdin said. "There is no place else in the world where you have this much wooded preserved land close to the urban center of one of the major cities. We're fortunate to have it, but it takes a lot of work."
Sufferdin and board members Stu Cohn, Kerri Daniels, Jeff Gray co-hosted the event.
"Through Conservation Corps, I gained a lot of knowledge and lifelong friends. And I gained a career path. I have more impact in helping my community because I learned about leadership and about plants and energy sources that I didn't know. I've left the experience having a bigger duty to become a leader for my community. "
—Brian Clay