On an October day that was perfect for "splashing in puddles," as her niece happily did, Cornelia Grumman and her family took a stroll through Perkins Woods.
Grumman is the great granddaughter of Prairie School architect Dwight Perkins, for whom the small patch of woodlands in Northwest Evanston is named. The Forest Preserves of Cook County exists today largely because of his efforts.
"He spent close to 23 years pushing for that amid all kinds of setbacks and lawsuits," Grumman said. "He just had this vision for creating and preserving all this open space that would be accessible to the public."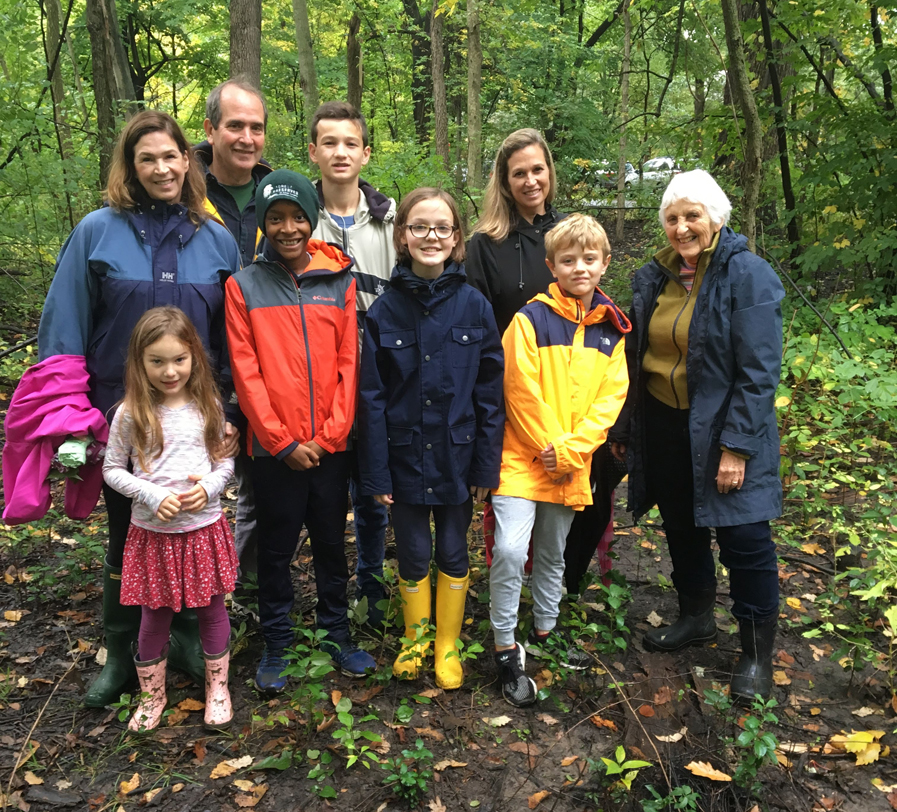 Grumman, education director for the Robert R. McCormick Foundation, grew up in Evanston but had "never really strolled through" Perkins Woods, as she was doing on this day with her husband, two sons, sister (Eleanor Grumman, who is a Foundation board member) and two nieces. Shelley Davis, Foundation president, and her son, also joined them.
Perkins Woods, Evanston's only Cook County Forest Preserve, is a 7.5-acre square patch of woodland remnant that once was an extensive forest. Though it was a "rain boot day" and cold, the woods were still lovely.
Perkins Woods site steward Libby Hill "brought this little patch of woods alive," during their hourlong walk, Grumman said. "We heard about her and other neighbors' commitment to make sure that [Perkins] reflects native plants and is well-maintained."
The Woods are an inviting spot for birders and other nature enthusiasts. "You can walk in the middle of it when the leaves are out, and all of civilization seems to melt away," Hill said in a volunteer spotlight story on the Forest Preserves website. "It's got a beautiful spring understory of beautiful flowers and is also a wonderful place for migrating birds."
More than a hundred years since the Preserves were established, Grumman and other descendants were seeing for themselves "just how deeply people continue to care about these oases of beauty and nature, which is exactly what our great-grandfather had in mind when he thought about creating the Forest Preserves."
The stroll also revealed something else, Grumman said: Spending time outdoors with family can be a pleasurable and learning experience in any kind of weather.