While the air is filled with the roar of chainsaws and the smell of burning wood, a Conservation Corps team was hard at work clearing brush in Wentworth Woods Forest Preserve.
This was the scene on a mid-December morning, when my fellow intern, Sam, and I ventured out to work in the field. We were advised to wear work boots and old jeans. When we arrived at Wentworth, located in Calumet, crew manager Bettina Kaphingst was there to greet us.
As Bettina's crew members cut down the branches from an invasive Common Buckthorn tree, Bettina moved fallen branches into a pile.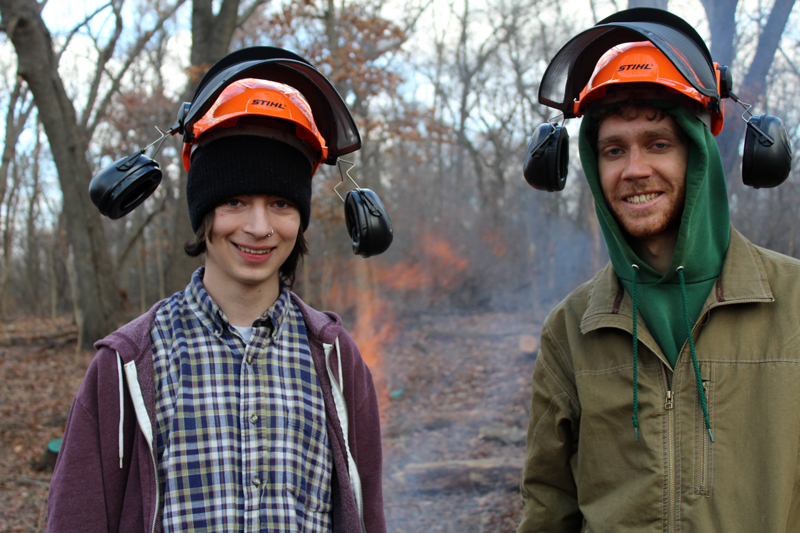 This particular team is a roving Conservation Corps crew that goes wherever they are needed to remove invasive species and clear certain areas.
While she continued working, Bettina gave us a quick lesson on the importance of invasive species removal: "These areas are not supposed to be nearly as thick with brush as they are," she explained. "It's important to get rid of the brush, especially if they're invasive, so more light can get to the forest floor. And we can't leave the piles of brush laying around, so burning them is the way we get rid of them."
By allowing light to reach the forest floor, native trees and plants that have been wiped out by invasive species will be able to re-establish themselves.
Sam and I began making branch piles of our own and throwing them onto the fire. Later, Bettina taught us how to identify Buckthorn trees and crew member Tim DiCarlo demonstrated the safety procedures to follow when cutting down trees. Occasionally, Sam and I would take a break from our work to talk to the crew members.
"One thing I really like so far about the Forest Preserves is just kind of being able to escape to nature while still being inside the greater Chicago area and always learning new plant, tree, and shrub identification," says 25 year old Crew Member Emily Helm.
Another crew member, Dawson Cox, 19, talked about how he became involved with the Forest Preserves. "I've been volunteering with my dad since I was a kid. I did a Conservation Corps internship in high school with this sort of work, and starting last summer I've been out here with these crews doing more professional level work with more professional tools. I would highly recommended it to people who like to help the environment and really feel like they're making a difference."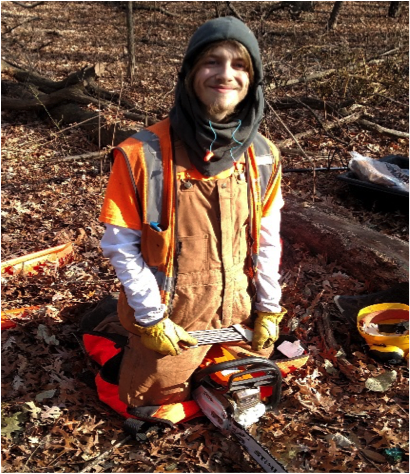 Dawson takes a break from sharpening his chainsaw. He continues: "Since I began working with the Forest Preserves I've gotten more
certifications and gone to more trainings than I can count, on things like tree identification, plant identification, how to use various tools, how to be a leader, maintenance on said tools, all kinds of stuff that's really good for building a resume and helping with getting your career started."
The Forest Preserve Foundation provides funding to support Conservation Corps interns like Emily and Dawson. Consider a donation to the Forest Preserve Foundation today and be sure to go out and enjoy your local Forest Preserves.
Liam Fisher is a junior at Lawrence University majoring in symbolic Systems. Sam Goldbeck is also a junior at Lawrence University majoring in film Studies.