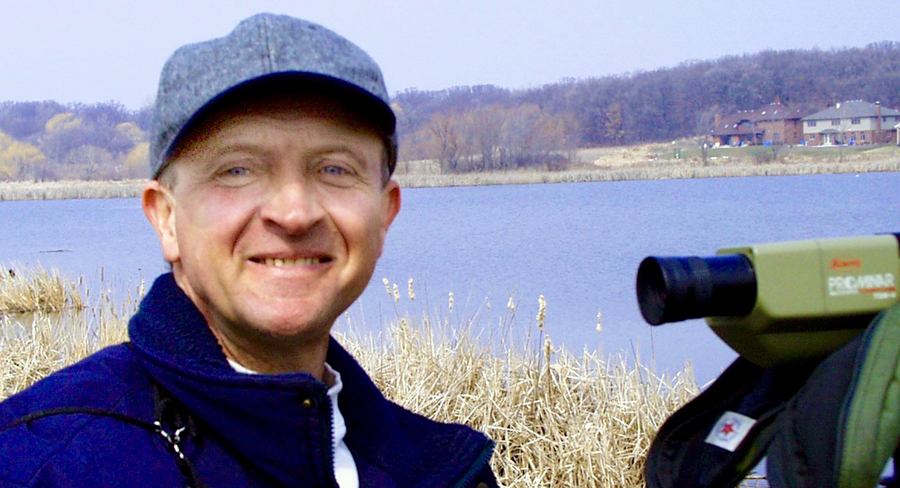 Birders are a close-knit community. They travel in their own flocks, binoculars and cameras around their necks, traipsing across prairies and through woods, looking to spot an elusive scarlet tanager or indigo bunting or rose-breasted grosbeak. They develop deep bonds around their shared affection for the feathered species.
Among Chicago's birding community, one birder soared high in the field of ornithology and left a lasting legacy. He's known and beloved for his many volunteer positions and dedication to conservation issues. His name is Wes Serafin.
Originally from England, he came to the United States in his youth, attended the Illinois College of Pharmacy and opened his own drug store in the south Chicago suburb of Worth.
Though he traveled to many of the most far reaches of the globe in his pursuit a rare bird, Serafin was completely at home in the Forest Preserves of Cook County.
According to his friend and fellow birder Sue Friscia, he bought a field guide on woodpeckers while fishing in the early 1980s. After taking an organized field trip to Camp Sagawau (now the Sagawau Environmental Learning Center) in Lemont, Serafin was hooked. That was the start of his life-long love of birding.
"He was so knowledgeable about birds and loved helping newer birders get on birds or answering their questions," said Cindy Alberico of Crest Hill, who birded many places through the years — in Illinois and other states in the U.S. and countries throughout the world.
Serafin went on to become president of the Chicago Ornithological Society (1991-1994) and participated in the Lisle-Arboretum Christmas Bird Count for many years, often heading the team that covered the Palos-area forest preserves. Serafin was instrumental in helping ospreys to breed in Cook County on nesting platforms erected for them. He was also a member of the Illinois Ornithological Society and an Orland Grassland volunteer.
Serafin, known to family and friends, passed away on Feb. 13, 2017. He was 67.
Friscia and others who knew and loved Serafin are raising money to have a bench dedicated to Serafin in the Forest Preserves.
"We wanted to honor him for everything he's done to make the Forest Preserves a better place for every one," Friscia told the Foundation.
They two started birding together 30 years ago, she said. They were both on a bird walk at Camp Sagawau when they struck up a conversation. "And both of us being Type-A personalities, we just went crazy and went birding everywhere."
Gifts to fund a memorial bench for Serafin are being handled through the Forest Preserve Foundation.  Anyone can contact the Foundation to honor a loved one with a bench on tree in the Forest Preserves of Cook County. To make a gift in Serafin's honor or any tribute gift for someone, click here and note the person you are honoring.
About one third of the $3,000 needed for the memorial bench has been raised. Friscia, with help from Forest Preserves staff identified a site in Orland Grassland South for the bench. She hopes the have all the funds to hold a dedication in the spring of 2018.
Bird watching, also known as birding, has become one of the fastest growing hobbies in North America.