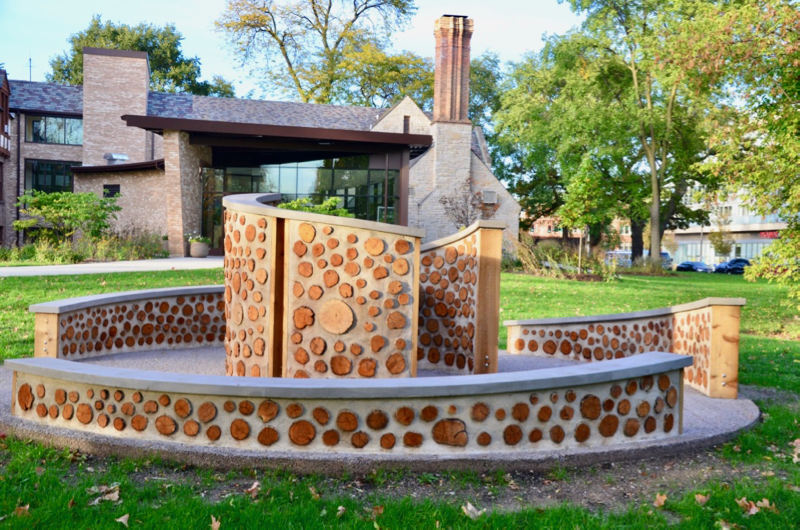 Thanks to the support of the Forest Preserve Foundation and CSX Transportation, there's something new near the corner of Lake Street and Harlem Avenue in River Forest. It is a sculpture called "Rose."
Oak Park River and Forest High School students worked throughout the summer designing and building the interactive art sculpture that's  installed at Cummings Square, the Forest Preserves of Cook County headquarters in the western suburb.
The Foundation and CSX made the grant to fund the sculpture's creation and installation based on the belief that art can invites people into the Preserves.
"Rose" is made largely from buckthorn, an invasive plant that competes with native species in the Preserves. The sculpture repurposes buckthorn and helps meet the Preserves' mission of removing the invasive species and educating the public about good ecological stewardship.
As a permanent installation, "Rose" amplifies the Foundation's #NatureInvites outreach.
Located along the crossroads of two western suburbs, River Forest and Oak Park, the "Rose" sculpture celebrates nature and highlights the importance of the Preserves in the communities.
Working side-by-side with professional artists from Transit Studio and the Chicago Public Art Group, the student artists created the sculpture from concept to design to installation. "Rose" bloomed from the artists' desire to create a public art piece that would encourage visitors to Cummings Square to experience the Preserves in an interactive way.
Repurposed buckthorn – a pesky, invasive species that has long threatened the health of the Preserves – and cordwood were used to create the circular piece. Located on the southeast corner of the Square, "Rose" invites climbing, sitting, resting, and play amid the area's natural beauty every season of the year.
The art piece was dedicated on a crisp fall afternoon in early November — the kind of afternoon that is all about autumn in the Preserves. Forest Preserves and Forest Preserve Foundation staff joined local residents and Cook County Commissioners Richard Boykin (1st Dist.) and Peter Silvestri (9th Dist.) to recognize and thank the student artists and their mentors.
"Rose" is the perfect addition to the corner of Lake and Harlem, where art and nature meet.
With the holidays ahead, #NatureInvites you to take a break from the hustle and bustle to walk through Cummings Square and meet "Rose." You can also head over to Trailside Museum and visit "Fish," another sculpture installed through the partnership between the Forest Preserve Foundation, CSX Transportation and the Forest Preserves of Cook County.
—Clarmarie Keenan, Development Manager
Various stages of "Rose" construction