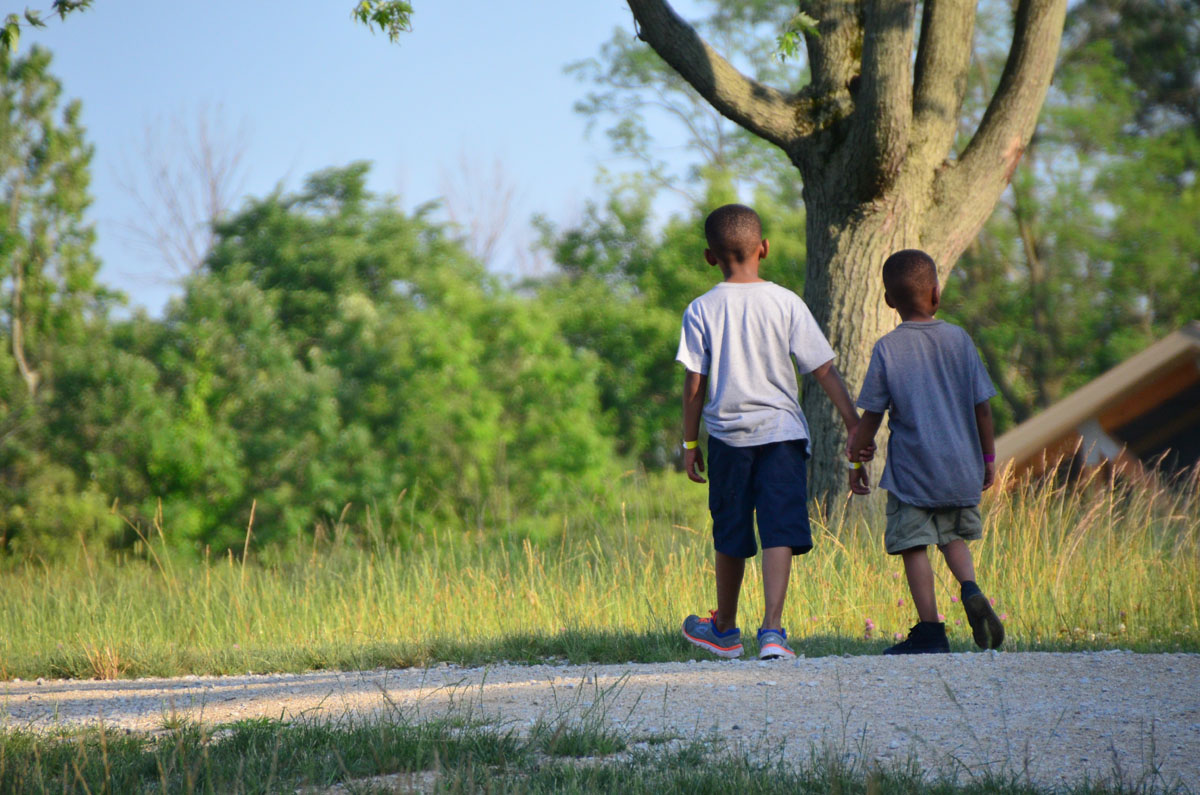 After everyone set up their tents for the night, there was still plenty of daylight left for tossing a Frisbee across the grassy field, squealing with delight at a peppered moth--or fear over the daddy long-legs--and getting a big pot of chili ready for dinner. It was a perfect day for enjoying everything the Forest Preserves of Cook County offer—including a chance to spend the night at Camp Sullivan, located within the 612-acre Tinley Creek Woods.
For the eight children and two adults who arrived at Camp Sullivan for a noon Thursday to noon Friday stay, this was their first camping experience.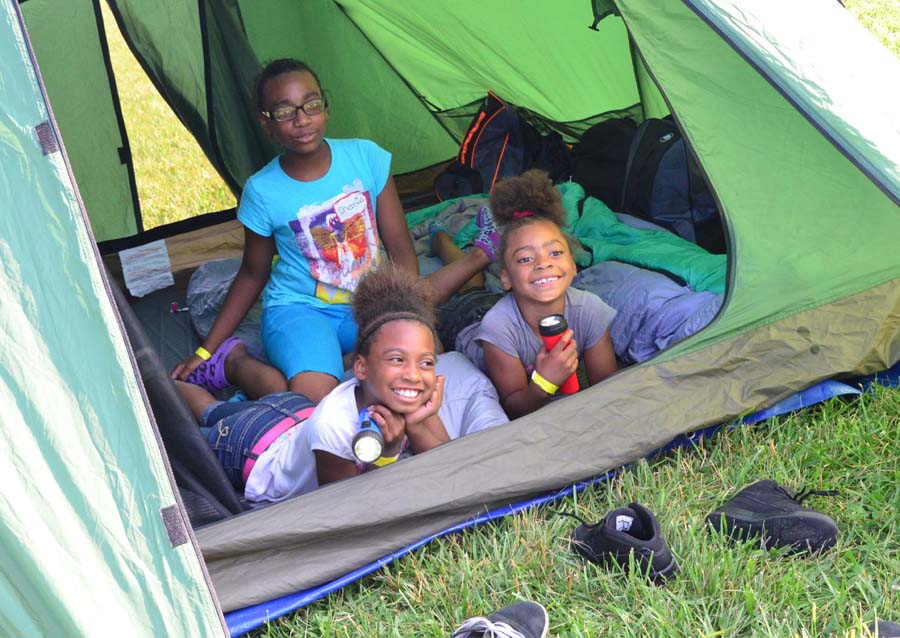 Damara Saddler, who brought her four kids, ages 6 to 13 and her 14-year-old nephew, said she wanted "to see how it is to sleep outdoors." Her oldest son was kind of skeptical, but he was game. Her 15-year-old daughter was going to come along, then decided she couldn't "do bugs" and stayed at home. The two younger daughters who did come were all too happy to crawl into their tents with their flashlights and show off the sleeping bags they had set up for the night.
Saddler, her children, and Gene Boyd and his two sons, Marshawn, 6, and Markelle, 4, were getting an introduction to camping thanks to Wild Indigo Nature Explorations, a group that organizes free outdoor field trips and activities across the Calumet region in southeast Cook County. Wild Indigo is a partnership between the Forest Preserve District of Cook County, Audubon Chicago Region and Eden Place Nature Center. Wild Indigo's outreach fellows take a Camping Leadership Immersion Course (CLIC) that certifies them to lead the campouts. The Forest Preserve Foundation provides financial support for CLIC.
Nambii Mangum, a Wild Indigo community outreach fellow, took the immersion course last fall, and this was her first time leading a campout. Wearing a hard-to-miss orange T-shirt, she was eager to make this a memorable experience for everyone—herself included. She had a full agenda for the 24-hour outing.
Once the campsite was set up, Mangum got everyone together for an ice-breaker. Then there was time for play or to try out the new climbing wall inside the recently restored 80-year-old barn on the Camp Sullivan grounds. After that, the young campers helped prepare dinner. They chopped peppers and opened cans of beans and tomatoes for the chili. A nature hike followed dinner and clean up. Around 8 p.m. everyone gather around a campfire for s'mores and storytelling. At 10, lights went out.
The next morning, after breakfast and all tents were broken down, Anayansi Ricketts led an art activity. Ricketts, who does arts programming for Wild Indigo, grew up in Denver and did a lot of camping with her family. She knows that many city kids don't get to have that experience. Through Wild Indigo, she can share her love for the outdoors and help kids open their eyes to nature by drawing what they saw during a walk through the woods and recording their impressions in journals.
"It's really wonderful," she said, "to work with the kids and see them do the different projects and just light up."
—Cassandra West