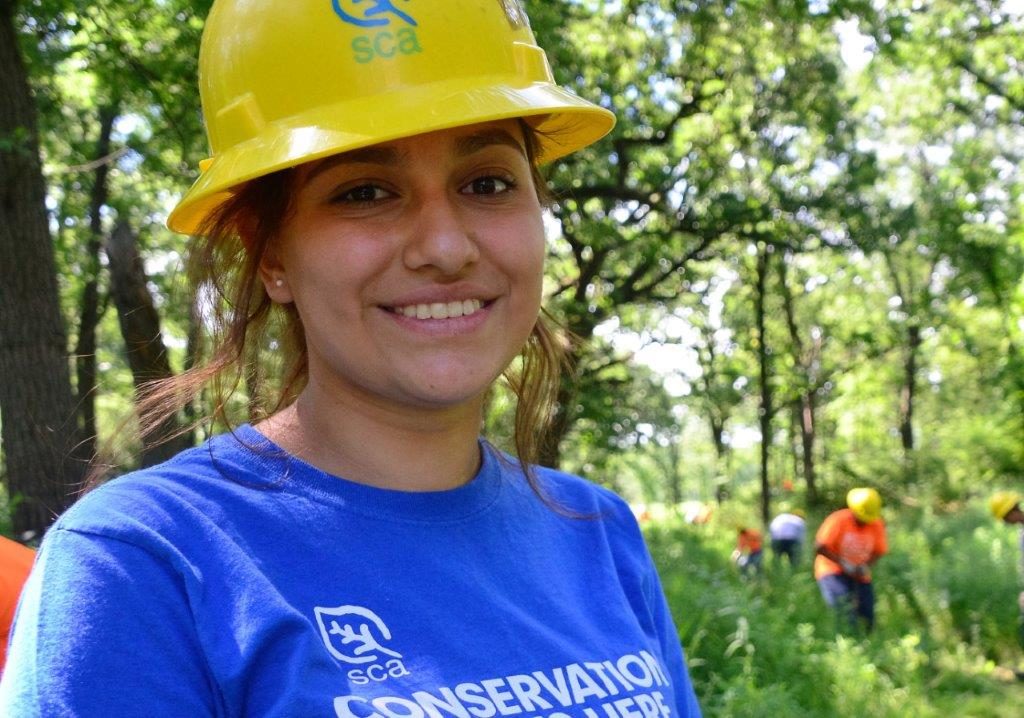 Alexa Molina, a Curie Metro High School senior, is spending six weeks of her summer mulching trails, removing invasive buckthorns and securing logs to create a check dam that will control water runoff in the Ted Stone Forest Preserve. Before she started the program, Alexa, 17, had only been to the forest preserves a couples of times, doing volunteer work with her chemistry teacher to earn extra credit. On the fourth day of being on the job, she says the work is hard, but "it's really cool experience to help the forest preserves." She's also gotten really good at spotting buckthorns.
Alexa and 70 other high school and college students are crew members with the Student Conservation Association's Chicago Conservation Leadership Corps Program this summer. They will restore habitat in preserves all over Cook County while gaining paid employment experience, getting science education, and having a self-esteem enriching experience. The Corps program operates in partnership with the Forest Preserves of Cook County and Friends of the Forest Preserves.
The Forest Preserve Foundation provides financial support to the Corps program. The Foundation received a grant from Allstate Corp. that is being used to underwrite the crew working in the Ted Stone Preserve. Foundation grants totaling more than $112,000 have supported Conservation Corps programs, which offer high-quality programming that deeply impacts youth and the short-term and long-term health of the preserves.
Shelley Davis, Foundation president, spent a recent morning getting to know the Corps members who are working at the Ted Stone Preserve. She told them how much their work means to the forest preserves and the people of Cook County and that they'll learn lessons will carry them far beyond the length of their time in the program.
From the national Student Conservation Association to the local crew leaders who work directly with corps members, the number one goal is assuring a rewarding and enriching experience. Corps team members receive thorough instruction on how to use heavy-duty forestry tools like log carriers, loppers and chainsaws. They're taught to always wear protective clothing. The outdoor shoe company Timberland made that easier by supplying many corps members with sturdy work boots this year.
Seventeen-year-old Daviontea Bass learned about the program through an online summer job search. Saying he was always the "weird kid digging in dirt," Daviontea knew the Corps was a good fit for him. Working outdoors ranks right up with his passion for singing, he says. "If I could just come out [to the preserve] and sing and work at the same time, I'd do it."
—Cassandra West