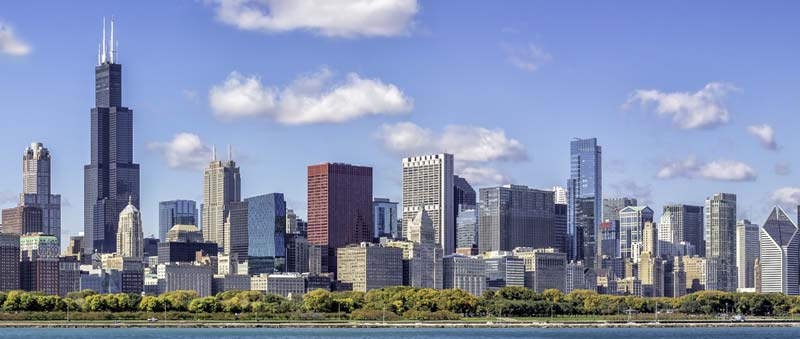 Forest Preserve Foundation summer interns spend their Fridays attending the Chicago Sustainability Intern Lunch Series. At these weekly events, interns from various sustainability organizations in Chicago get to learn about the mission and work of similar organizations throughout the city. A recent luncheon featured a presentation on energy at the offices of Elevate Energy.
Foundation interns Ebony Ellis and Emily Teerink write here about what they learned during their visit:
First some background on Elevate Energy:
Elevate Energy is an economic development organization with a mission to promote smarter energy use for all. When we arrived at their offices, Marjorie Isaacson, who oversees operations, gave a brief building tour and presentation on the organization's work.
Founded in 2000 by the Center for Neighborhood Technology (CNT), Elevate Energy started as a response to the rolling blackouts and increased demand for electricity that plagued Chicago during the late 1990s.
The idea was to research, design and implement energy programs focused on moderate and low-income neighborhoods. Since its beginning, Elevate Energy has successfully implemented such programs throughout Chicago, as well as in other municipalities and states.
Here are three takeaways from our visit to Elevate Energy:
• Elevate Energy utilizes creative solutions to address everyday programs
• Using community connections is key to addressing certain environmental challenges
• The organization's work does a lot more good than just increase energy efficiency.
One of the first big ideas Elevate Energy had was to develop the real-time pricing program for energy usage. It realized that if people paid an hourly rate for electricity instead of the flat fee, they would have an incentive to use less energy during peak hours and would save money.
Collaboration between state politicians and Elevate Energy led to the legalization of two real-time pricing programs in Illinois. Today, there are more than 23,000 households enrolled in the programs in Illinois. Between them, the households have saved more than $22 million and have reduced the peak demand for electricity. This is just one of the many creative solutions Elevate Energy staff have developed to address energy efficiency problems.
Utilizing community connections is an important concept to Elevate Energy. Much of their success is due to field organizing and marketing of programs within communities. Neighborhood energy parties are one strategy Elevate Energy uses to encourage community members to make energy upgrades in their homes. Modeled after Tupperware parties, one neighbor planning to make upgrades invites other community members to their home to learn about the benefits and savings of the program. Through this program, the organization has retrofitted 26,000 units with energy efficient improvements.
Additionally, Elevate Energy retrofits nonprofit commercial buildings and multifamily complexes. Other Elevate Energy community projects include energy planning services, community solar, and street lighting incentives.
While the bulk of its efforts fall under designing and implementing energy programs in moderate and low-income communities, Elevate Energy continues to push its mission with new research and insights. Research shows that low-income families have a greater chance of being exposed to lead, pests, air pollutants and contaminants due to their housing conditions. These issues lead to greater risks of respiratory disease, developmental disorders, obesity, chronic illnesses and mental illnesses. However, Elevate Energy's findings suggest that energy efficiency improvements like the ones they make to homes, reduce the risk of some of these diseases, and improve overall occupant health.
Furthermore, home energy efficiency upgrades can reduce the energy burden imposed on low-income families. In Illinois, low-income families spend on average 13 percent of their income on energy.
However, improvements like the ones made by Elevate Energy's program, can save the homeowner between 15 percent and 30 percent.
Elevate Energy is an innovative organization that is using creative solutions and community connections to address the needs of moderate and low-income communities. By making simple improvements to enhance the energy efficiency of buildings, the organization is helping solve a number of other development issues that might otherwise go unaddressed.
Thanks to Marjorie and the entire Elevate Energy team for an inspiring presentation.