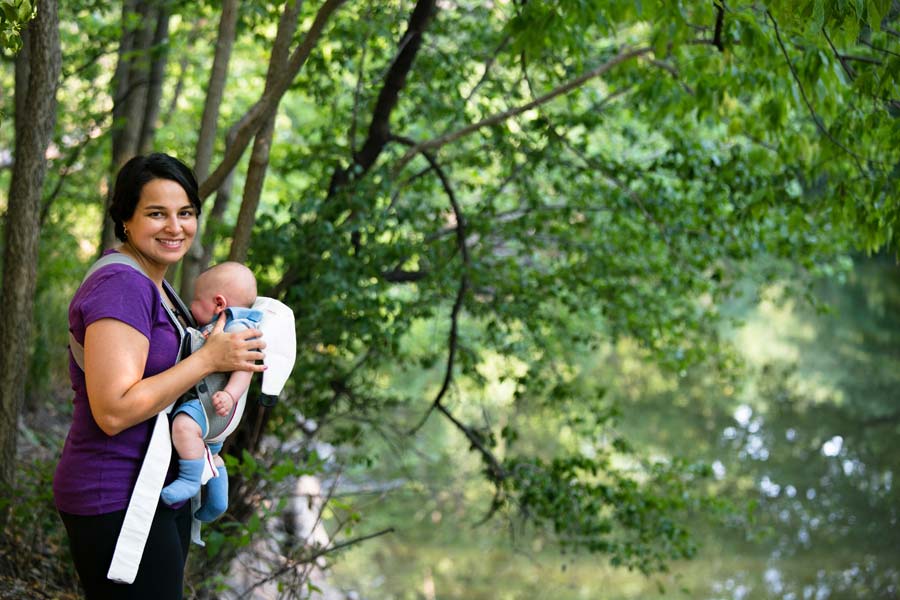 This article, written by Lydia Uhlir of the Forest Preserves of Cook Country, originally appeared in the Illinois Pediatrician newsletter.
Basic principles of a healthy lifestyle include, eating well, exercising, getting enough sleep, limiting alcohol and abstaining from smoking, AND just as important, but missing from this list is spending time in nature. It could be a leisurely walk or a run along a wooded path or even just relaxing on a bench in a park.
Numerous studies have shown that daily exposure to nature has a wide range of health benefits on everyone, no matter the kind of activity, no matter the age or gender. Even minimal time in nature, as little as 30 minutes, can have a variety of health benefits for your body and mind. Being outside in nature has been shown to stabilize hormone levels, lower blood pressure, release muscle tension, and improve the functioning of the body's immune system. [1]  The net result of all these effects is a decrease in overall stress, but the effects of nature go well beyond this.
Exposure to nature has been shown to restore and improve attention through a process called attention restoration therapy. [2] Nature provides you with a mildly stimulating environment without necessarily giving you something to focus your whole attention on. The result is a rejuvenated mind ready to tackle the next challenge. [3]
There are also a variety of illnesses and ailments whose symptoms are mitigated by spending time in nature. Ailments such as type II diabetes and obesity can be offset by an active outdoor lifestyle [4] that provides children with plenty of exercise and vitamin D [5] and these benefits can extend well into adulthood. In a similar way to attention restoration therapy, it has been found that children with ADD/ ADHD experience a reduction in symptoms when they are regularly given the opportunity to play outdoors. [6] And exposure to nature has been shown to decrease the onset and minimize the symptoms of many cognitive disorders like Alzheimer's and dementia. [7]
Beyond the health benefits people report a sense of general wellbeing and happiness after spending time outdoors. Research has shown that people are significantly more sociable with other people if they are engaged in any kind of outdoor, nature-related activity. This social inclusion complements a broader benefit of nature—that of decreasing symptoms relating to depression. Numerous studies have shown that living near nature has a widespread effect on communal wellbeing. [8] People with access to green space and nature are healthier and happier than those who are not. [9]
Organizations like the Forest Preserves of Cook County (Forest Preserves), which manages nearly 70,000 acres of public land, understand the positive effects nature has on human health and wellbeing. In order to spread this message and engage people through a health and wellness lens, the Forest Preserves has partnered with the Cook County Department of Public Health (CCDPH) as part of their Healthy Hotspot initiative that aims to establish healthy spaces, called Healthy Hotspots, in suburban Cook County through community partnerships. The Forest Preserves are Healthy Hotspots, making healthy living easier for local residents by providing them with opportunities to connect with nature and outdoor activities.
The Forest Preserves is promoting all the benefits nature has on human health and wellbeing through both the CCDPH's Healthy Hotspot initiative and its own Wellness in the Woods initiative, which encourages people to be active, playful and restful in the Forest Preserves through a variety of activities, including biking, running, or hiking over 300 miles of trails, experiencing unstructured playtime at its nature play locations, or learning about local wildlife on a bird walk. A Wellness in the Woods brochure that details activities like the ones listed above is available in English and Spanish and is being distributed to local community health clinics and agencies.
Another health and nature-related project involves Dr. Terry Horton from Northwestern University who is conducting a research study to understand the influence of walking on physical and mental health. The study will compare walking in natural areas vs. on a suburban sidewalk. The Forest Preserves along with several other organizations is helping to fund the study. Hopefully the study will provide additional data to improve our understanding of the affects nature has on human health.
The Forest Preserves continues to actively seek partnerships with the healthcare community and encourages interested health organizations, clinics, hospitals and medical practices to reach out to their local forest preserve district, park district, nature center, or conservation based agency to partner on health and nature related projects and initiatives. These types of partnerships and collaborations are an essential component in reaching communities and spreading the important message of spending time in nature.
For information about the CCDPH's Health Hotspot initiative, visit Healthy Hotspot. For information about the Forest Preserves' Wellness initiative, visit Wellness in the Woods. If you are interested in obtaining Wellness in the Woods brochures, please contact experience.nature@cookcountyil.gov and/or if you are interested in partnering with the Forest Preserves on a nature and health related project please contact Cathy Geraghty.
---
[1] Park BJ, Tsunetsugu Y, Kasetani T, Kagawa T, Miyazaki Y. The physiological effects of Shinrin-yoku (taking in the forest atmosphere or forest bathing): evidence from field experiments in 24 forests across Japan. Environmental Health and Preventive Medicine. 2010;15:18-26
[1] Kaplan S. The Restorative Benefits of Nature: Toward an Integrated Framework. Journal of Environmental Psychology.1995;15:169-182
[1]Maller C, Townsend M, Pryor A, Brown P, St Leger L. Healthy nature healthy people: 'contact with nature' as an upstream health promotion intervention for populations. Health Promotions International.2006;1:45-54
[1] Babey SH, Hastert TA, Yu H, Brown ER. Physical Activity Among Adolescents: When Do Parks Matter? American Journal of Preventive Medicine.2008;34:345-347
[1]Gilbert Diamond D, Baylin A, Mora-Plazas A, Marin C, Arsenault JE, Hughes MD, Willett WC, Villamor E. Vitamin D deficiency and anthropometric indicators of adiposity in school-age children: a prospective study. American Journal of Clinical Nutrition. 2010;6:1446-1451
[1]Kuo FE, Tayor AF. A Potential Natural Treatment for Attention-Deficit/Hyperactivity Disorder: Evidence From a National Study. American Journal of Public Health. 2004;94:1580-1586
[1]Jarrot SE, Gigliotti CM. Comparing Responses to Horticultural-Based and Traditional Activities in Dementia Care Programs. American Journal of Alzheimer's Disease and Other Dementias. 2010;25:657-665
[1] Bishop B. Nature for Mental Health and Social Inclusion. Disability Study Quarterly.2013;33. http://dsq-sds.org/article/view/3430/3205.
[1] Alcock I, White MP, Wheeler BW, Fleming LE, Depledge MH. Longitudinal Effects on Mental Health of Moving to Greener and Less Green Urban Areas. Environmental Science and Technology. 2014;48: 1247–1255