Some gifts are for the birds. Literally. That was the sentiment behind a tribute gift from Ben and Kate Julian when they adopted a bench in the Skokie Lagoons.
When Ben called Shelley Davis, president of the Forest Preserve Foundation, to discuss making a donation, "it was even a little awkward," he recalled. Davis, he said, "kind of assumed 'oh, who died, who is the tribute for?'
But the couple didn't want to wait until someone died to make their gift. "More than anything this wasn't about waiting for someone to die to make this tribute but a way to acknowledge the appreciation we have now for what the Foundation does," he said.
And to the birds. The bench they adopted, just south of the Forest Way Grove picnic area in the Lagoons, carries a plaque with the simple inscription. "This place is for the birds…Ben and Kate Julian."
Choosing a site
Ben and Kate have made it a point to visit many different preserves over the past several years. The couple spotted the bench during one of their many visits to Skokie Lagoons, a preserve which is located close to where they live. It also happens to be in an area where many bird species pass during migration. And where they both spend time bird watching. They are "very impressed by how many species of birds one can find so close to home," he said.
Ben went to the Foundation's website and saw there were other ways to make a gift to the Foundation, including trees and benches. He thought to himself, "That would be a fun way to do it, and we could have the bench in one of our favorite spots."
Although the plaque wasn't an important part of their decision, they decided to use the opportunity to create an awareness for the many birds that can be seen from the area of the bench. More important than the plaque, it's "just knowing that our donation helps the Forest Preserve continue to the work it needs to do."
Bench and tree tribute gifts help the Foundation further its mission to make the Preserves accessible to everyone.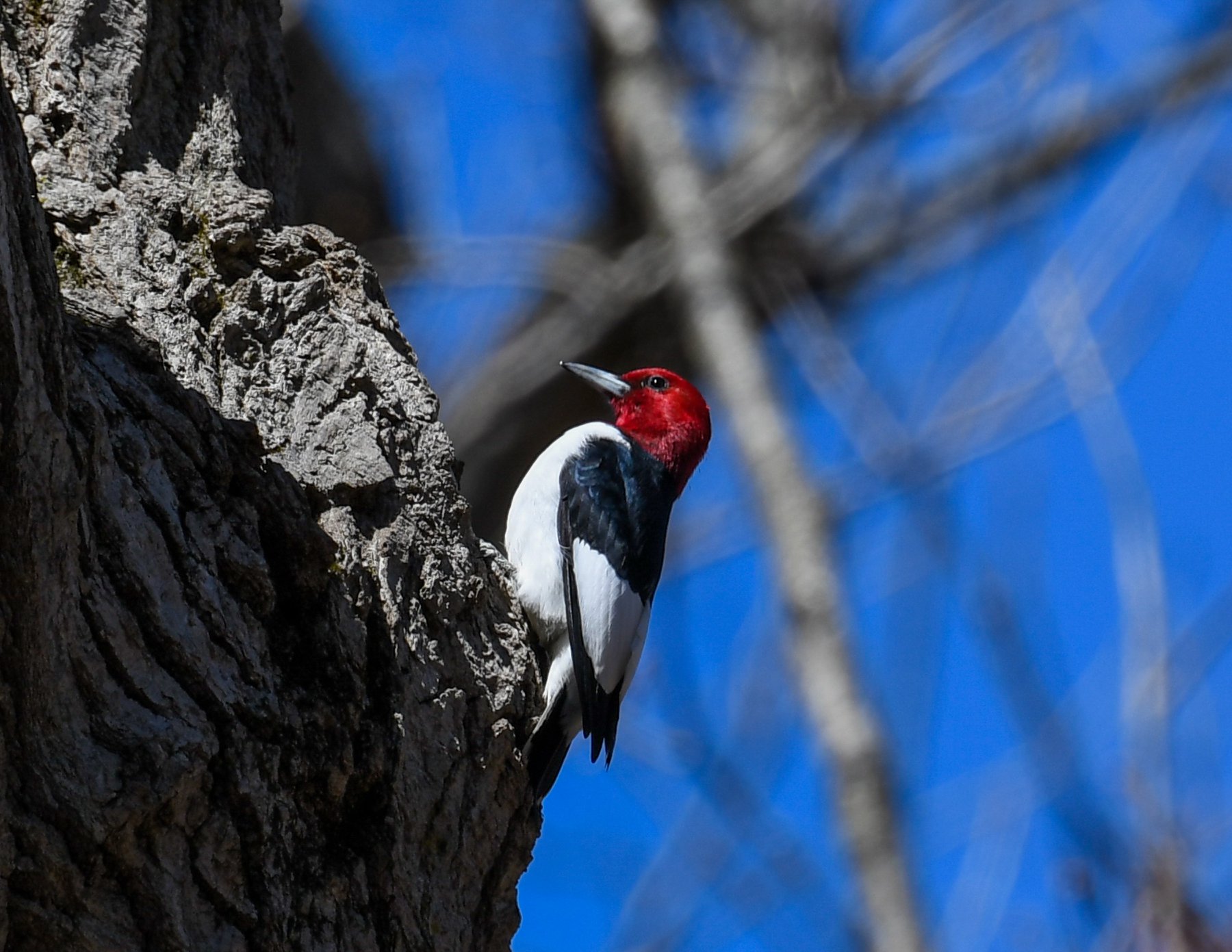 Birding, binoculars and photography
Ben and Kate began birding in 2015 and have recorded 112 species of birds in the area of the bench and the Forest Way Picnic Grove (which are less than 1/4 mile from each other).
Since becoming active birders, Ben has gotten more serious about photography as well, he said. "My wife carries binoculars. I decided that I would carry a camera, not just to capture nature photographs but also to help us identify what the birds that we see."
One of Ben's photos, of a red-headed woodpecker, was a Forest Preserves photo contest winner in 2019. It's the featured photo for February in the 2020 Forest Preserves calendar.
But when it comes to why he supports the missions of the Preserves and the Foundation, Ben makes a powerful case:
"More than anything, it's about really appreciating the outdoors and the nature that we have around us," he explained. "The donation to the Foundation comes as a way of trying to show our support for what's being done to preserve and restore the Preserves. The more we can do to help improve the Preserves and make them more accessible, the more it will benefit everybody. As we think about various ways to donate our resources and time, the Preserves are a great place for us."