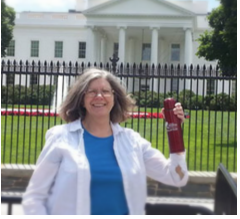 An appreciation for nature led Margaret Tobin of Palos Hills to volunteer in the forest preserves. For Dennis Kankowske, it was "seeing people working in the woods." After he inquired and found out what they were doing, he was hooked.
Tobin and Kankowske are two of the preserves' top volunteers, amassing hundreds of hours each working on various restoration projects.  Tobin began volunteering in 2013 in the Palos Preserves and eventually became a steward at Cap Sauers Holding, the district's largest piece of land uninterrupted by roads. Kankowske, who lives near Midway Airport, has volunteered for five years, mostly at Arie Crown and Ted Stone.
Hundreds of volunteers like Tobin and Kankowske help extend the capacity of the Cook County Forest Preserves to maintain healthy and vibrant nature-filled lands. Volunteer opportunities can include helping with solstice celebrations, invasive brush clearing and even being a social(media) butterfly, sharing their love of the preserves on Twitter, Instagram and Facebook.
When volunteers donate 100 hours of service, they get a meaningful reward—such as a hat, thermos, wool socks—to honor their important contributions. The Forest Preserve Foundation is proud to contribute financial support for the Volunteer Recognition Program, providing 30 percent of its funding.
"My main motivation for volunteering is helping nature," Tobin says.  "When I switched from mostly hiking to volunteer work in the preserves, exercise just happened to be a side benefit that continues.  It is more about volunteer activities and being healthy overall."
Since 2015, the program has awarded 355 gifts to volunteers.