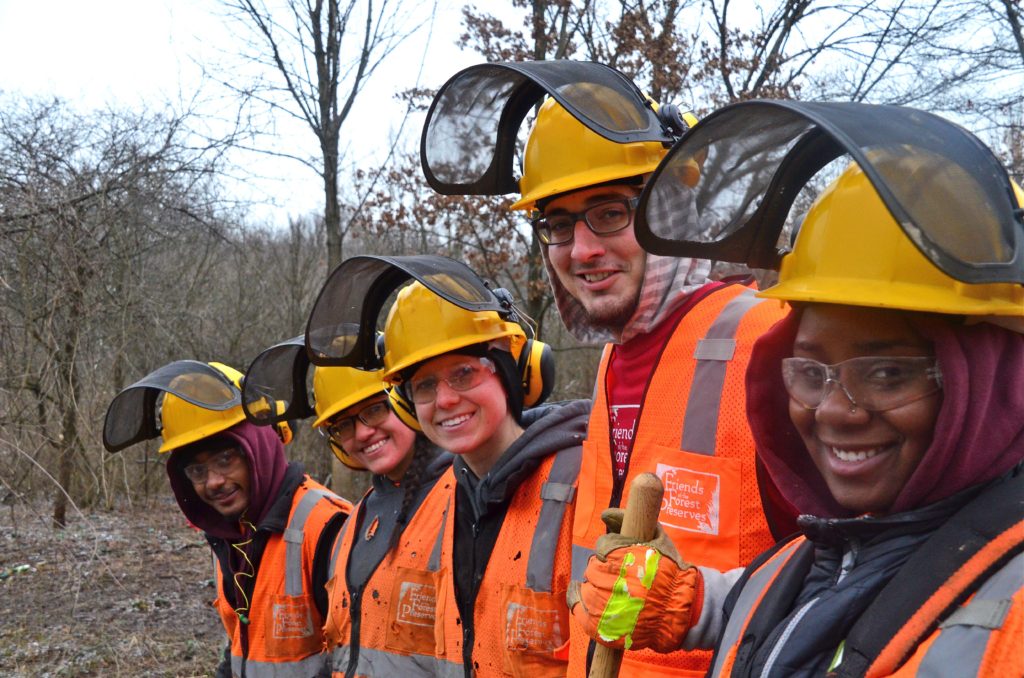 In the dead of winter, when it's bone-chilling cold, the ground is frozen and wildlife are burrowed away, that's when restoration crews are hard at work deep in the Forest Preserves of Cook County.
On a recent morning in Spears Woods, a five-person Forest Preserve Leadership Corps crew took turns tossing freshly cut armloads of brush onto a red-hot burning pile. White smoke flowed gently upward and perfumed the frigid air. This work requires painstaking labor. And knowing how to use the proper tools. And, on a day like this, crew members must be properly outfitted from head to toe.
Ladejanae Robinson-Goode looks every bit like a pro. She expertly describes her gear: "I have on waterproof leather steel-toe boots that cover my ankles," she explains. "And chaps. Those are padded leg protectors that are ideal for the brush cutting she's doing. "I'm also wearing heavy-duty gloves, and a helmet with ear protectors" to muffle the loud roar of the chainsaw she has to use to get the work done.
Previously, Ladejanae, 19, volunteered as a Youth Outdoor Ambassador. In that role, she took on speaking engagements and did youth outreach and tabling events. The Harold Washington College freshman joined this crew in Spears Woods five months ago. "I wanted to be more hands-on and in the field and get more involved with physical work," she explains.
Corps programs reduce the density of invasive woody plants species to less than 15 percent, which in turn increases native plant diversity and the number of species of plants found in the preserves, says Alice Brandon, resource programming manager for the Forest Preserves who oversees the Corps program.
CCLC staffs a year-round crew in the biodiverse Palos region, the preserves' largest contiguous area, covering more than 14,000 acres of land. Leadership Corps members, who come from all over the county, have graduated from high school, are in college or taking time to weigh career goal. They gain valuable technical and leadership skills that go beyond their Corps experience.
Crew members work a paid 30 hours a week four seasons a year.
Some, like Daiva Gylys, are truly seasoned Corps leaders. The 27-year-old became acquainted with conservation work in 2012 as an intern and now manages the roving crew in Spears. As the brush fires crackles behind her, she talks about her tenure.
"My first experience out of college was working with SCA [Student Conservation Association] as a summer crew leader in Detroit. After that I transferred back over to Chicago to work with SCA and worked my first summer with a SCA joint CLC summer program."
Daiva studied at the University of Michigan, where she earned degrees in environmental science and socio-cultural anthropology. "The most impactful thing for me has been to work with such awesome people and seeing them come and go but staying involved in the conservation community even after they've gone through the Corps program," she says.
New Corps members join the crew as trainees,  Zach Taylor, conservation director, explains. They go on to become a crew member, then an advanced crew member. When they finished, they have the title of resource technician, "which is a title that the forest preserve uses for their staff and contractors use for their staffs, so our training mirrors the industry."
A member of the crew for just three weeks, Taylor Polanski, 24, considers himself the newbie. He's a graduate of Benedictine University, where he majored in environmental science. Last summer he did an internship with Audubon Society working on a restoration crew. Being in the Leadership Corps is his "first environmental job." He aspires to become a crew leader.
If he keeps at it, he'll become a veteran like Gloria Orocco, who has been a member of CCLC since 2011. The first time she stepped foot in the forest preserve was during a trip with her school's environmental club. "They took us out into the Ted Stone Forest Preserve," Gloria says. "I wanted to join [the Corps] because I didn't know that forest preserve existed or that I had the ability to go to a forest preserve. We did a winter workday and I loved it. I learned about the summer program and joined when I was 16."
That's six years and counting.
Brandon wouldn't have it any other way. "We don't want them to leave all the time because they're so knowledgeable," she says. "They bring so much to the table in terms of training and knowledge."
Read more about the work the Conservation Corps does in the Cook County Forest Preserves.
—Cassandra West