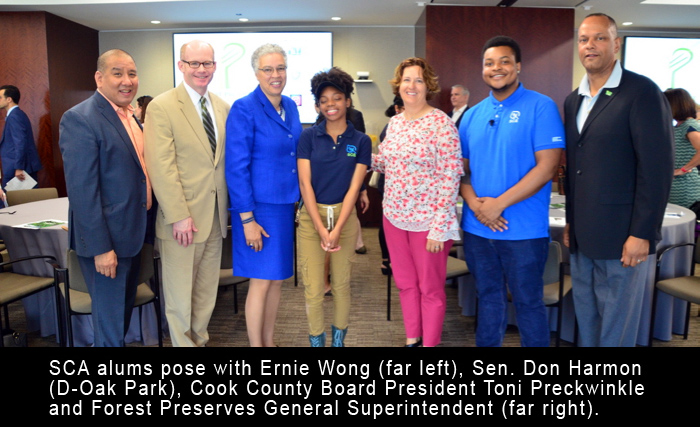 Experiences in the Forest Preserves of Cook County inspire people in very personal ways.
After working last summer in the Preserves as a Student Conservation Association (SCA)/Conservation Corps intern, Nylah Ali sees herself becoming a plant biologist one day.
Leslie Fenton, who grew up "almost right on top of Bemis Woods," supports the Preserves by serving on the board of the Forest Preserve Foundation.
Theresa Salus, outdoor program and outreach manager for REI, believes that "public places that people have access to recreation are absolutely important." She leads REI's efforts in the Chicago area to support trail development and gateway signage in the Preserves.
All three participated in the Forest Preserve Foundation's "The Transformative Power of Outdoor Experiences" program on June 18 in downtown Chicago. Nylah and Theresa were part of a panel discussion that included Arnold Randall, General Superintendent of the Forest Preserves of Cook County, and Jalanni Matthews, an SCA assistant crew leader. Landscape architect Ernie Wong, president of Site Design Group, Ltd. and Foundation donor, moderated the panel.
More than 50 people from across Chicago's civic, business, nonprofit and faith communities attended the breakfast program, designed to raise awareness of the Foundation's mission. It also showcased the work of one, the Student Conservation Association, a Foundation grant recipient.
Randall spoke about the Preserves' economic and ecological impact on the region.
Fenton, event co-host, kicked off the program by recalling the huge farm her grandfather owned on Wolf Road next door to where a prairie that now belongs to the Forest Preserve is located." The land, once slated for development, became Wolf Road Prairie, a grassy nature reserve with savanna, prairie and wetland ecosystems that teems with wildlife.
Wong, a former SCA alum who grew up in Hyde Park, led a lively discussion. He asked panelists about their involvement with the Forest Preserves and how they would encourage others to become ambassadors for these public lands.
Last summer, Ali, 16, worked with a SCA/Conservation Corps crew in Dan Ryan Woods, supported by a Foundation grant. She enjoyed the experience so much that she'll be back there this summer, she said. "I saw that I could make a difference in the community by removing invasive species and clearing waste and obstruction from paths and trails."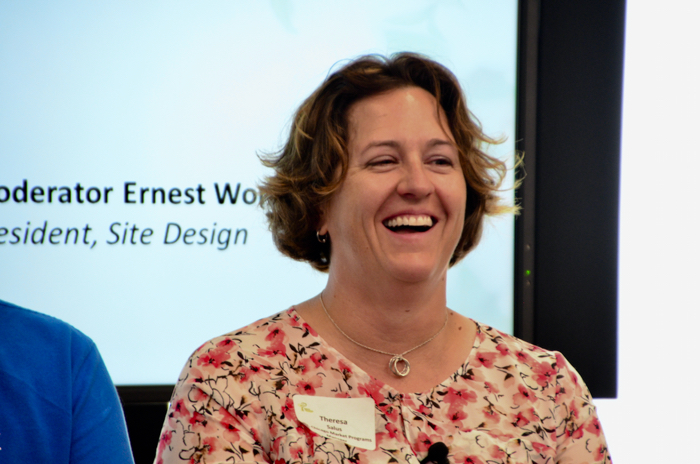 "The Forest Preserve system needs us and the leadership that this organization, the Forest Preserve Foundation, is doing to pave that path, to get more organizations to support the work that the forest preserves is doing is vital."
—Theresa Salus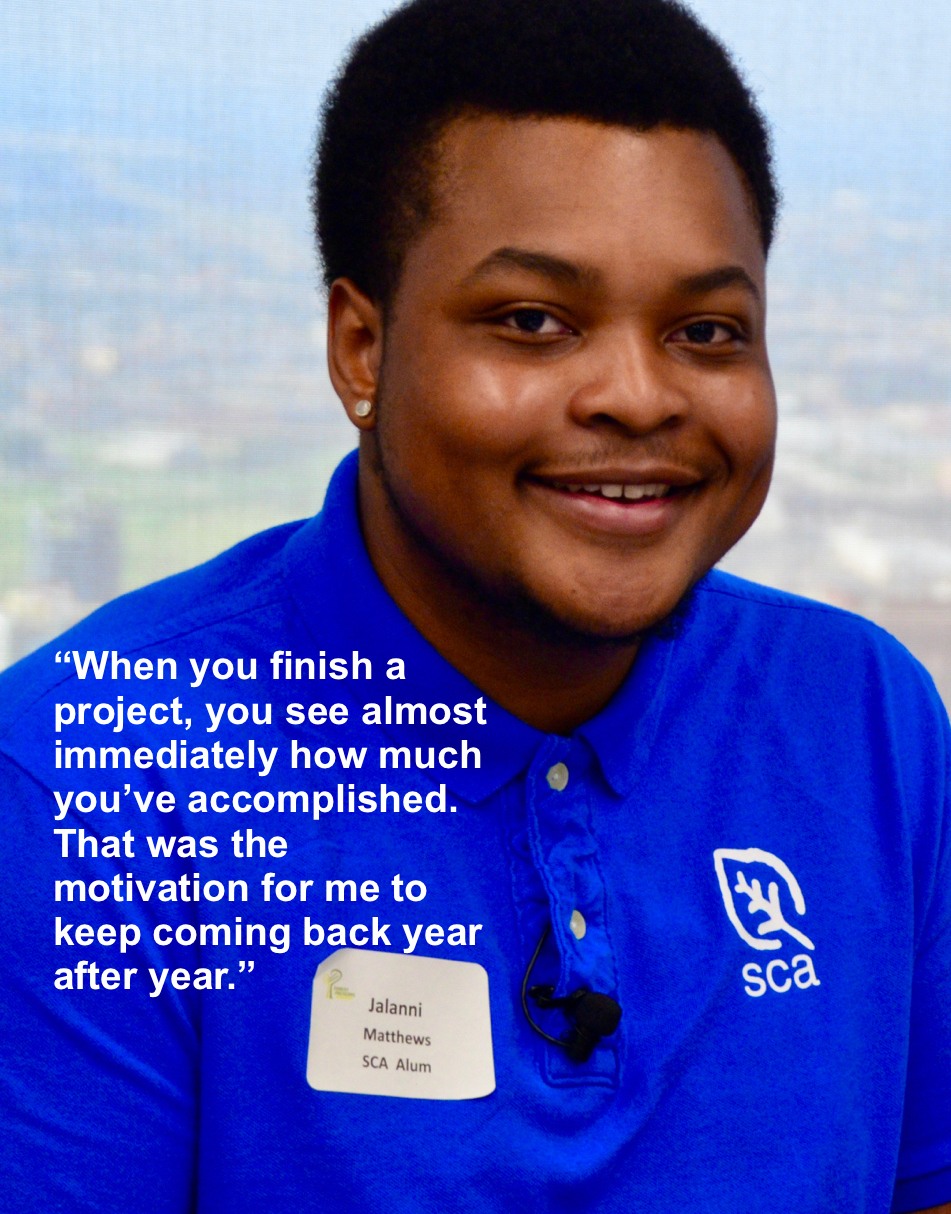 Matthews, who will be a junior at the University of Illinois Urbana-Champaign come fall, started with SCA when he was a high school sophomore, "originally because my mom wanted me to have a job," he said drolly, drawing a bit of laughter from the packed 56th-floor conference room.
But he was every bit serious when he said, "I like doing the work that we're doing [in the Preserves]. You start a project and you see the impact it has on an area. When you finish, you get to see almost immediately the work that you've done and how much you've accomplished. That was the motivation for me to keep coming back year after year."
The 19-year-old who is majoring in Earth, society and environment, recently returned from a two-week SCA leadership training in Pittsburgh. "This is my second year being in a leadership position with SCA," he said.
Randall, superintendent since 2010, acknowledged some of challenges when he came on board—small volunteer base and "some partnerships that were fledging."
He said the 70,000 of Forest Preserves can accomplish more with help from others, like the Foundation. "We couldn't do it with the staff or dollars we get on our own," he said. "We have to partner."
The Foundation is the philanthropic partner to the Preserves.
And some of those partners include young people like Nylah and Jalanni, who are helping to keep the Preserves safe and healthy for everyone. "I'm inspired by young people who are out there doing the work [in the Preserves] and really being passionate about it. They could be doing other things. We need to grow that base of people, the next generation."
You can support the Foundation in its critical mission to help make the Forest Preserves of Cook County more accessible and enriching for everyone by taking one of these actions:
Become a Conservation Cup sponsor
The annual golf outing and fundraiser takes place at George W. Dunne National Golf Course Thursday, Sept. 13. Choose from a variety of sponsorship levels.
Visit and work with the Conservation Corps
The Foundation is supporting 120 youth via summer internships in the Preserves.  We will be going out several times this summer to visit with the youth and to hear their stories. To join us on a site visit, email us.
Make a donation
Your gift can help support a Conservation Corps crew and other outdoor experiences.
This project received generous support from