Brian Murphy and Karen Quasny were strangers when they met on a moonlit and extremely cold night in 2014. They had gone to Spears Woods for a snowshoeing class put on by REI, the outdoor recreation company.
Both were separated and interested in activities that allowed them to enjoy the outdoors, which they each loved. They weren't looking to start dating anyone. Well, Karen, a first-grade teacher, wasn't at the time. But Brian had a different outlook, he says recalling that evening. "I was actively looking for someone to date," he says.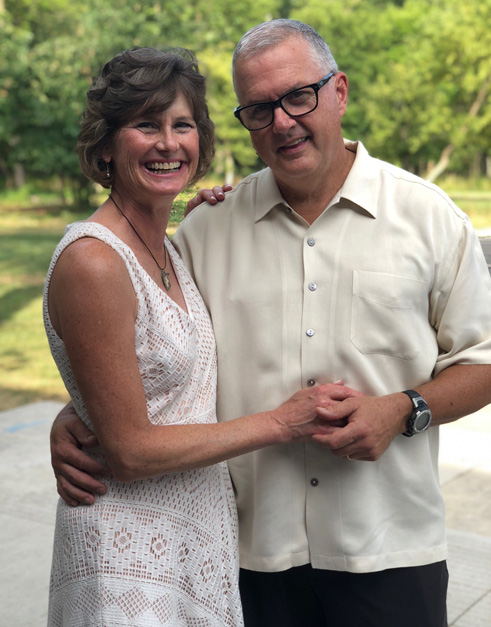 For Karen, it was the cold weather that was on her mind. "The high that day was about 10 degrees. By the time we went out, it was zero. And there was a full moon," she recalls. Perhaps a sign that love was also in the air, though she didn't know it at the time.
"The conditions were very icy on the trail," recalls Brian, managing partner for a management consulting firm. And somewhere along the trail, Karen "fell and hurt her knee. When we got back to the parking lot, I just asked her if she wanted to get something to eat. She didn't want to go on a date. I said, 'It's not a date. It's just food.' We went and got a burger in Willow Springs and we tended to her knee and then—we started dating."
From Brian's standpoint, it all seemed meant to be.  "We liked each other, plus we liked the woods. A lot of our early dates were out in the woods, going for walks."
After getting "engaged on the ski slopes in Aspen, Christmas of 2017," the couple had a small private wedding ceremony in a friend's Oak Park home in 2018.
But they didn't forget the setting in which they first met: the Forest Preserves. They chose to have their reception celebration  at the Thatcher Woods pavilion, which they had happened upon once while snowshoeing.  "What a beautiful building," Karen says she thought when she saw it. "We decided to have a celebration there."
On Aug. 3, 2018, Karen and Brian celebrated with 120 of their friends. On the next day, they celebrated some more with 150 friends at another Forest Preserves site, Red Gate Woods in the Palos Division of the Forest Preserves of Cook County.
Then Karen and Brian did something to give back to the woods they love and that brought them together. On the invitation to their receptions, they wrote: "No gifts, please. If you'd like to give something, make a gift to the Forest Preserve Foundation."
Since they were married, Karen and Brian still spend time in their beloved Preserves.
"I love the woods," Brian says. "They're one of the great assets of the county, of the region. We're actively out in the woods every season. And now I have a partner who likes the outdoors as much as I do."
Sign up for REI's outdoor winter classes.
Show your love for the Preserves and nature on this Valentine's Day.