After successfully completing a nine-month green industry training program, 13 participants were ready to step out and apply what they had learned. Nov. 30 was their graduation day and I was there to watch it all unfold.
Started in 1994, Greencorps Chicago is a 21st Century Conservation Service Corps program that offers job opportunities to Chicago adults from underserved neighborhoods who face barriers to employment. This fall's graduates completed a rigorous program that provides hands-on experience and classroom work in the areas of restoration, landscaping, tree care, environmental health and safety, and personal and professional development.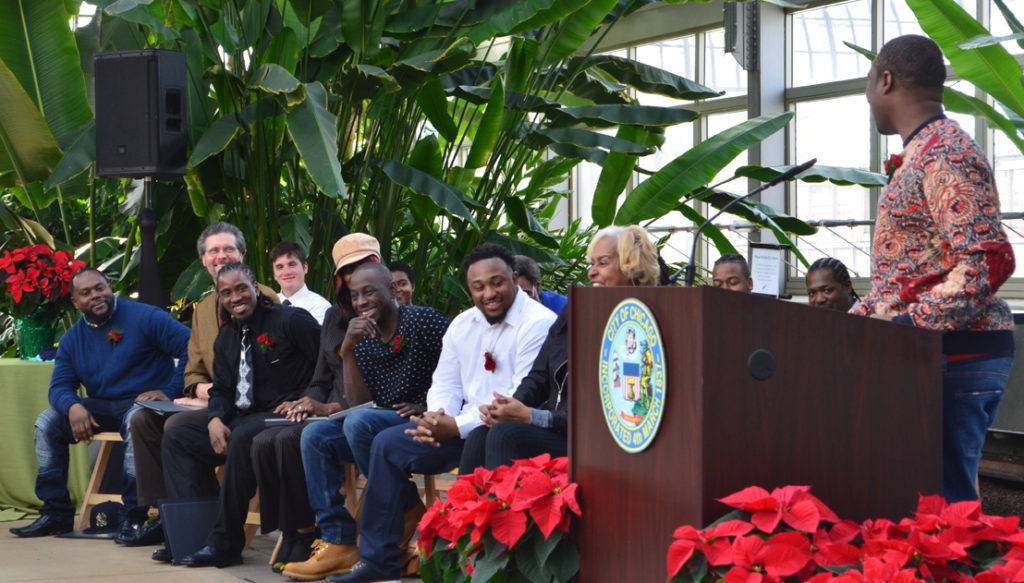 Beginning each year in March, the 30-hour work week takes teams to Chicago parks and the Forest Preserves of Cook County, where they make significant environmental improvements – planting trees, restoring habitats, and clearing invasive species. Greencorps also provides wrap-around support services through job readiness training, professional certifications, job placements and legal aid. Participants set personal and professional goals to achieve during their training, in addition to their required course work. Trainees are paid the prevailing Chicago minimum wage of $12 per hour.
The Forest Preserve Foundation is a proud partner of this Conservation Corps program along with Forest Preserves of Cook County and the Chicago Department of Transportation. Greencorps crews supported by the Foundation have completed restoration work and improvements at Shoe Factory Nature Preserve in Hoffman Estates. Crews also have installed new fencing around the nine-acre preserve to clearly define the boundary of this sensitive and fragile habitat and prevent improper use by bicycles, ATVs, dog walkers and poachers.
Additionally, Greencorps crews helped build a nature play area and tree house in Dan Ryan Woods — a first at this site located on Chicago's South Side. This provided a new resource for families in neighboring communities — a nature-based play area that welcomes children to play and explore nature.
As I watched the ceremony, held at the Garfield Park Conservatory, "from the wings," it was reminiscent of other graduations I've attended. In fact, I found myself reflecting on my own graduations — optimistic graduates, exuberant families and friends, and proud mentors and teachers. In the air was that feeling of standing on the brink of the next journey with a healthy mix of fear and excitement about the unknown. It was inspiring to hear each graduate introduced with a synopsis of their personality and achievements with an emphasis on their unique contributions to the success of the team. These are 13 people transformed by their work and their time together.
Selected by his fellow crew members to speak on behalf of the class, Shavelle Simms spoke passionately about his personal success. Saying, "I've overcome some past mistakes and never dreamed I'd get here," Shavelle acknowledged acquiring new job skills, making new friends, and developing a professional network for the first time in his adult life. His newfound sense of accomplishment and confidence radiated. Shavelle also recognized his fellow graduates, crew leaders, and mentors, thanking them for their acceptance and unconditional support along the Greencorps journey they shared.
As significant as their collective environmental impact is, the individual growth each participant achieves may be the real story of Greencorps' impact and success. By combining hands-on project work, classroom activities and personal development, participants leave the program empowered to become successful members of their families and communities. With the support of mentors, fellow team members, family and friends, graduates created new futures for themselves — futures filled with possibilities and opportunities.