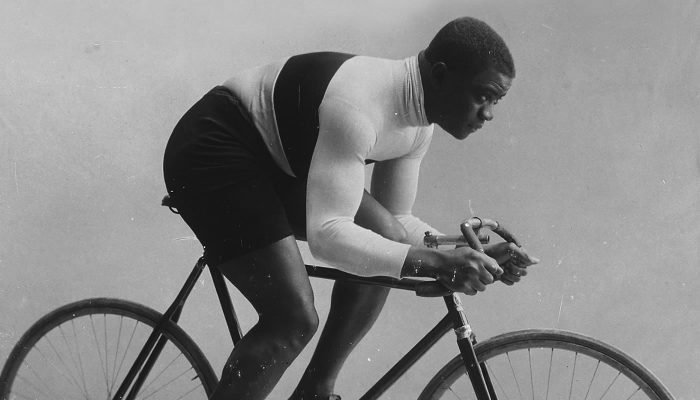 A living tribute to black history can be found in the Forest Preserves of Cook County. If you are a Chicago-area cyclist, you probably have ridden along the Major Taylor Trail, named after the legendary African American cyclist.
The Major Taylor Trail starts and ends in areas managed by the Forest Preserves of Cook County: Dan Ryan Woods in the north and Whistler Woods in the south.
Taylor was one of the most celebrated bicycle racers of the late 19th century. And, despite the rampant racism he faced in the cycling world, he set several world records and won numerous races all over the world. The Forest Preserve trail named for Taylor is one of Chicago's few truly urban trails, connecting neighborhoods on the city's Southwest Side.
The son of a Civil War veteran, Marshall "Major" Taylor was born in 1878 in Indiana. His father drove coach for a wealthy Indianapolis family that introduced him to cycling when they gave him a bike at the age of 12. Taylor's first job, in 1892, was at a bike shop. In addition to cleaning the shop, he performed bicycle tricks and stunts to entertain customers. Those experiences are probably the source of his nickname "major," because he often performed in military uniform.
Adversity on the track
That same year, Taylor began racing, winning amateur events on road and track. But he encountered severe discrimination at every turn. He suffered racist track owners, racers, spectators and others who harassed, threatened and even attacked him during races. White cyclists often would collude with each other to prevent him from winning, sometimes tackling or crashing into him because they couldn't beat him. Fans were equally nasty, heckling him and throwing ice water in his face or putting nails on the road in front of his tires as he was racing. Track owners would refuse to let him race. Professional cycling leagues such as the League of American Wheelmen adopted segregationist membership policies, preventing him from joining while still profiting from his participation in their races.
In the mid-1890s, Taylor befriended bicycle manufacturer and former racer Louis "Birdie" Munger. Convinced Taylor would be a star, Munger gave him a job as a mechanic, then began training and sponsoring him for racing. In 1896, Taylor moved with Munger to Worcester, Mass., then the mecca of U.S. cycling.
The young cyclist turned pro in 1896 and won his first race, beating renowned sprinter Eddie "Cannon" Bald in a half-mile sprint at Madison Square Garden. Over the next several years, he set seven sprinting world record times. In 1899, Taylor traveled to Montreal to race in the World Cycling Championship, where he earned the title of "world champion sprinter." As his fame grew, Taylor drew fans from around the world, especially in Europe, where he toured in 1901 and 1902.
'Michael Jordan' of his day
Some have described Major Taylor as the Michael Jordan of his day.  From 1895 to 1910, he was the preeminent force in bicycle racing, the world's most popular professional sport of that time.
He retired from professional racing in 1910, citing increasing physical and mental toll of the sport. His final race ever was in 1917, when he competed in an old-timers race against other retired pros, and won. In the years that followed, Taylor experienced a number of financial setbacks and other personal misfortunes.
He spent his last days in Chicago and died at Cook County Hospital 1932. Taylor was buried in a pauper's grave in Mt. Glenwood Cemetery next to Buffalo Woods in the Palos system of the Forest Preserves of Cook County. In 1948, the superstar athlete got some much-deserved recognition when a group of retired cyclists, along with Chicago bicycle magnate Frank Schwinn, organized his reburial.  Taylor's remains were moved to a more prominent location in the cemetery, marked by a plaque memorializing his contributions to the sport of cycling and the desegregation of professional athletics in America.
A living black history
In 2007, after a 10-year effort, a seven-mile bike path named after Taylor was officially dedicated in the West Pullman community.
The trail itself is a disused South Side railroad on the far South Side of Chicago.  The northernmost section of the trail—from Dan Ryan Woods to 87th Street—is on an elevated portion of the former train line. Its only street crossing (at 83rd Street) is an overpass with the street below.
The trail is a popular riding destination for local cycling groups like the Major Taylor Cycling Club of Chicago. In 2019, FITT Chicago named it one of the 10 best bike trails and paths in Chicago.
Also along the trail in the Beverly portion of Dan Ryan Woods are retail shops such as the Wild Blossom Meadery & Winery, which hosted an event in 2019 that benefited the Forest Preserve Foundation.
And while the trail offers many opportunities for enjoyment, Foundation President Shelley Davis observes: "What's so important to remember is that Major Taylor was an African American trailblazer whose legacy endures. He did so much to elevate the sport of cycling and exemplify black excellence.  That the trail named after him runs through miles of the Forest Preserves makes it easy for everyone to connect the past to the present."
More:
The Friends of the Major Taylor Trail are residents of the surrounding communities committed to the use and development of the Trail.
New Mural Brings Spotlight to Chicago Bike Trail
Development associate Samuel Davis contributed to this post.