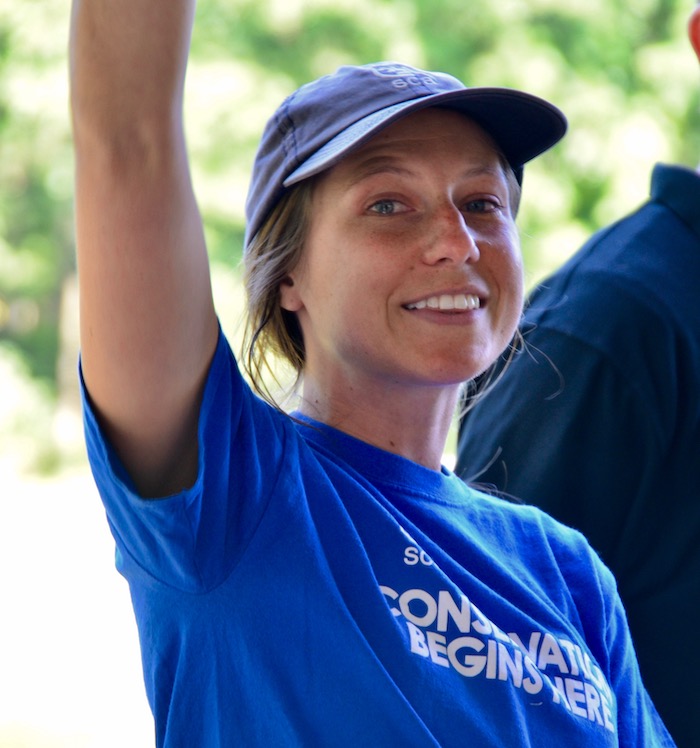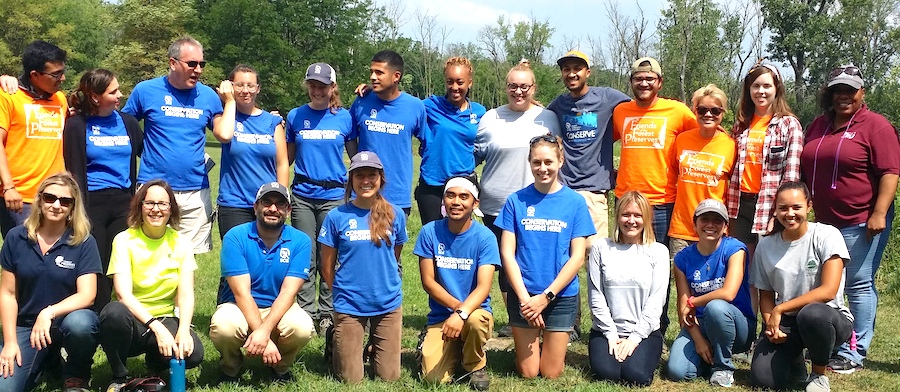 During Women's History Month, we often hear of towering female conservation leaders like the late Dian Fossey and Jane Goodall. Both women made countless contributions to the conservation field. Fossey and Goodall each did groundbreaking work in Africa. But closer to home is Diava Gylys, the Chicago program manager for the Student Conservation Association (SCA), who is making her own impact.
A passion for environmentalism
The Forest Preserve Foundation came to know Gylys through its support of SCA, which recruits, trains and coordinates the summer Conservation Corps internship program in the Forest Preserves of Cook County. In her role, she oversees all Chicago programming, supervising crew members and leaders, as well as project planning. Gylys believes giving youth the tools to be constructive members of a team improves their experience as well as the quality of their work.
"The more that you allow people to connect with each other, the more they'll trust each other," Gylys says. "And the more likelihood you'll be able to produce good work, because people are working together… and want to keep each other accountable."
She believes a quality team is more than the sum of its parts. A strong team requires a diversity of skills, interests and backgrounds to be completely effective, she says. Gylys' dedication to teambuilding, equity and inclusion in conservation have made her a role model for youth who aspire to become the next generation of environmental advocates.
For Gylys, her passion for environmentalism began at a young age. Her interest grew through "a mix of a lot of smaller experiences and… cultural and community connections to the environment," she says. She readily credits her participation in Girl Scouts and the deep respect for nature engrained in her Lithuanian heritage.
In college, she pursued social and environmental justice, earning degrees in environmental science and socio-cultural anthropology from the University of Michigan. While studying in Costa Rica, Gylys discovered her love for conservation and field work, which led her to SCA.
Gender equity in conservation
One of the programs she manages at SCA pays special attention to gender equity in the conservation field. To expand its inclusion efforts, the SCA piloted an all-female Conservation Corps crew in Chicago in 2013.
The goal was to provide a safe space for young women to explore conservation without fear of being ignored, harassed, or discriminated against because of their gender.
The lasting success of this program elevates women conservationists, who have long been treated as outcasts in their field—and encourages women to consider working in the conservation field.
A valued partnership
Gylys values program support from the Forest Preserve Foundation. "Without that support from the Forest Preserve Foundation," she says, "we would not be able to provide as many experiences for young people as we would like."
She also points to opportunities the Foundation provides outside of the summer internships.
"The Forest Preserve Foundation as well has really been inclusive in providing other opportunities [where] alumni of our programs can participate in speaking engagements and interact with donors and board members and supporters," Gylys explains. These interactions help youth build their professional skills as well as their confidence. "Knowing that people [want] to listen to them and want to hear [their perspective] is really powerful."
As the 2020 Conservation Corps program approaches, Gylys looks forward to the first day of orientation. "You really get excited for that opportunity to see all that pre-planning and logistical work and the setup culminate in bringing everyone together to begin this experience," she says, recalling the air of nervous excitement that she often sees on orientation day.
The crew members "have no idea the connections they'll make and the relationships they'll have and the skills they will learn" from their internship experiences, she adds.
In a 2018 story about the Conservation Corps crew assigned to Dan Ryan Woods, Gylys said of the crew leaders: ""These amazing people here are some of the most selfless, strong, hard-working individuals that you will ever meet."
Gylys' enthusiasm reveals her deep personal investment in the youth she works with. It is this trait that makes her an effective leader and a role model for young women in conservation.
She is eager for what's in store for Conservation Corps this summer. And so are we.