From one presentation that offered a broad view of what's happening in the Forest Preserves to another that covered a variety of conservation projects, the Foundation's Spring Symposium enlightened many on the Preserves' value and significance. The symposium also underscored the various partnerships the Foundation has developed with the retail co-op REI and Baltimore-based Harry & Jeanette Weinberg Foundation.
Hosted by Wintrust in downtown Chicago, the symposium engaged upward of 80 guests from across the civic and business community on June 14.
Forest Preserves General Superintendent Arnold Randall delivered an informative presentation on the Preserves' history, amenities and current initiatives. Charles "Chip" O'Leary, deputy director of Resource Management, described key conservation projects and the Foundation's role in supporting them.
The panel discussion, moderated by Theresa Salus, REI Outdoor Program Manager-Chicago, featured retired Ambassador Fay Hartog-Levin, trustee with The Harry & Jeanette Weinberg Foundation, and two Conservation Corps alums, Anely Lopez and Nicholas Brown.
Open spaces
Randall said he and Preserves leaders focus on staying relevant and getting people to understand the value of having 70,000 acres of protected public lands. "What's really unique is that there's no big city that has this kind of open space so close to it," he said.
O'Leary, who oversees conservation projects in the Preserves, gave an overview of several current ones in a presentation titled, "Conservation in Partnership with the Forest Preserve Foundation."
The current priority projects are in Cap Sauers Holding Nature Preserve, Cranberry Slough Preserve and Shoe Factory Road Prairie. He explained how the preserves often follow rivers and creeks, and stretch throughout the county.
About a year ago, O'Leary said, a donor approached Preserves staff and the Foundation with an offer to provide a financial gift toward restoration work in Cap Sauers Holding Preserve. The donor said, "Can I help you guys get some work done. It looks like a really exciting project," O'Leary explained. "He made a large donation, which is going to help us restore 120 acres." The donor also requested to remain anonymous.
Meaningful experiences
Hartog-Levin said she first became acquainted with the Foundation through supporter Carleen Schreder, who two years ago invited the former ambassador to attend a Foundation event.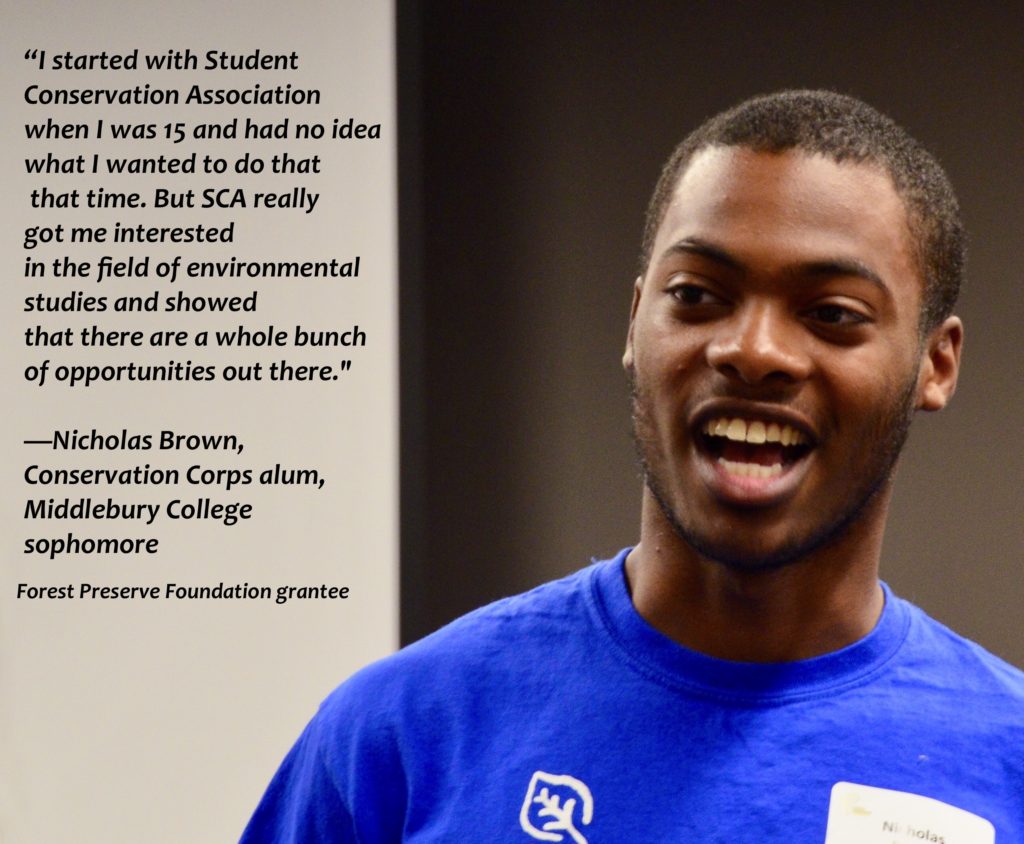 When Hartog-Levin heard about the association with Conservation Corps, she recalled the meaningful experience her own son had as a member during college. That led to her helping secure a grant for the Foundation to invest in the Forest Preserve Experience program. It was an "opportunity to expose kids from Chicago, particularly in some underserved areas, to an experience that they might otherwise not have had," she said. "After being inspired by alumni such as [Anely and Nicholas], I was able to advocate for grants."
Based on Hartog-Levin's advocacy, the Forest Preserve Foundation has received $100,000 from the Harry and Jeanette Weinberg Foundation. Those funds support Conservation Corps interns who are City of Chicago residents, as both Anely and Nicholas are.
From Chicago's Southeast Side, Anely is a two-time Conservation Corps crew member. She worked in Eggers Grove in 2017 and in Dan Ryan Woods in 2018. The experiences gave Anely practical work skills and conservation knowledge such as using forestry tools and identifying invasive species. It also exposed her the natural wonders within her own neighborhood.
"I'm from the Southeast Side of Chicago, one of the most polluted areas in the entire area," Anely said. "One of the biggest benefits for me to work in Eggers Grove in my neighborhood is that it's such open land and that's it a place for people to gather and communicate with one another."