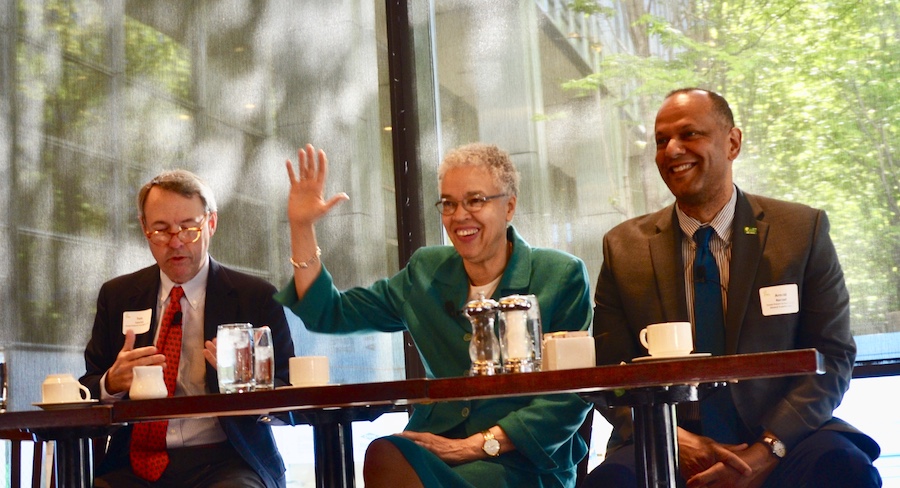 "The Forest Preserves has no better advocate and no better steward than President [Toni] Preckwinkle," Foundation board member Tom Lanctot told guests at a May 14 breakfast event. "She's made the Forest Preserves a priority of her administration since the beginning, and it shows in everything that we know about the Forest Preserves."
Lanctot made those remarks in introducing Preckwinkle and Forest Preserves General Superintendent Arnold Randall before starting a conversation about the value and impact of the Preserves. Lanctot and Jim Beck, who joined the Foundation board recently, hosted the breakfast at Chicago Cut restaurant. The event drew about a hundred civic and business leaders. It also offered them a chance to learn more about the partnership between the  Foundation and the Forest Preserves.
A love of the outdoors
Preckwinkle began by sharing how her love of the outdoors informs her advocacy of the Preserves. She grew up camping in state parks with her family and now takes her grandchildren camping in the Preserves, she said. Being board president gives her lots of opportunities to spend more time in the Preserves. "I really enjoy that aspect of my tenure as president of the county board."
Preckwinkle acknowledged Lanctot's assessment of her tenure, saying that the "Forest Preserves were a bit of a backwater" when she started her job, which also makes her president of the Forest Preserves board. A strong supporter of the Foundation, Preckwinkle champions one its key program investments, the Youth Conservation Corps,  paid summer internships in the Preserves.
"We're doing a lot of good work with young people in the Forest Preserves, and that work is supported by the Foundation," Preckwinkle said. "Giving young people opportunities to [help support their families], to help us make the Preserves a more attractive place is a really good idea and the [Foundation] is doing a lot of that."
Randall invited everyone in the room to get out into the Preserves to enjoy the hiking and biking trails, campsites, fishing, canoeing and more. With 70,000 acres, the Preserves cover a lot of county land. By comparison, he said, the Chicago Park District parks all together, are about 9,500 acres. "There is nothing like it in the country, where you have this much natural, open space so close to a major city like Chicago. And we're tasked with stewarding that."
But it's not just Preserves leadership and staff who steward these public lands. Individuals play a major role as volunteer stewards, doing a variety of restoration projects within Preserves all over the county. One such volunteer happened to be in attendance on this morning.
Donor and volunteer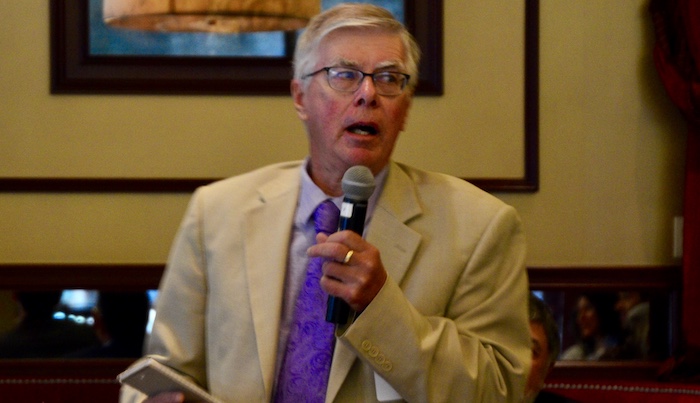 George Birmingham, a volunteer site steward in the Preserves for 25 years, stood in the center of the room and shared some of his experiences. He spoke of the youngsters he's met from Little Village who were transformed by visiting the Preserves and doing restoration work.
"The more groups we have, the better I feel about it," he said. "While it's good for them, it's been very good for me. I've made wonderful friends. I've seen young people grow up, get jobs with the Forest Preserves."
Birmingham, a Foundation donor, also explained why he came to the breakfast. "I'm here because I actually put my own money in this Foundation. I just so believe [in it], not only for the kids, but it's done a lot for me."