As local birding destinations go, among the most popular are the forest preserves scattered throughout Cook County. Dedicated birders, you might say, flock there to catch sight of native and migratory species year round.
Through the three-year-old program called Bird the Preserves, which receives funding from the Forest Preserve Foundation, everyone has an open invitation to bird watch.
Judy Pollock, a Chicago-area bird conservation consultant to Bird the Preserves, said the program has three goals: (1) strengthen the Forest Preserves relationship with existing bird organizations, (2) solidify the position of the Forest Preserves as a good birding destination, and (3) reach out and engage new audiences in the forest preserves through birding.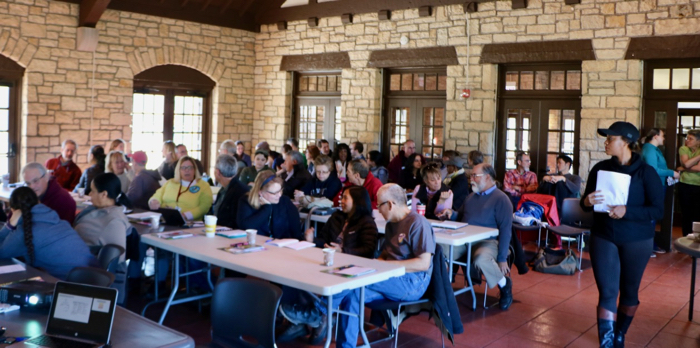 Efforts toward the third goal got a boost in late January, when the Foundation and the Forest Preserves of Cook County presented a workshop titled "Broadening the Base: Community Outreach and Engagement for Birding and Stewardship Groups" at the Thatcher Woods Pavilion in River Forest.
The workshop featured four local experts: Nina Baki, Forest Preserves of Cook County; Adriana Fernandez, U.S. Fish and Wildlife Service; Brandon Hayes, Openlands, and Mila Kellen Marshall, University of Illinois-Chicago
They shared their knowledge and advice on community networking, making use of technology/social media, publicizing events to specific communities and attracting diverse audiences.
Marshall, a doctoral student in ecology at the University of Illinois-Chicago, gave a short talk titled "What Does a Culturally Connected Conservation Look Like for Cook County?"  She discussed how working with communities in which a person is not a member requires as acknowledgement of intentions. She guided the audience of about 50 through a self-reflection exercise designed to get at what motivates people to support environmental causes and communities to which they don't belong.
"We often see communities and perceive their needs, but when building relationships it is so important to see yourself as a part of the community," Marshall said.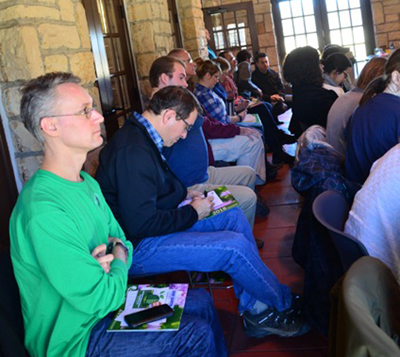 The response to the workshop was actually better than expected, Pollock said. Nearly 50 people attended.
The Forest Preserves started Bird the Preserves with funding from the U.S. Fish and Wildlife Service and the Foundation stepped in.
"The funding from the Foundation has allowed us to have that third year, which is a critical year that allows us to make institutional change," Pollock said. "This wouldn't be happening without the support of the Foundation."
Although birding organizations have been holding events in the forest preserves for years, Pollock said, those events weren't getting promoted through the forest preserves, only through the birding organizations. "One thing we've done is to coordinate the calendar, so that now if Chicago Audubon Society is holding a bird walk in Thatcher Woods, it will appear on the Forest Preserves birding calendar."