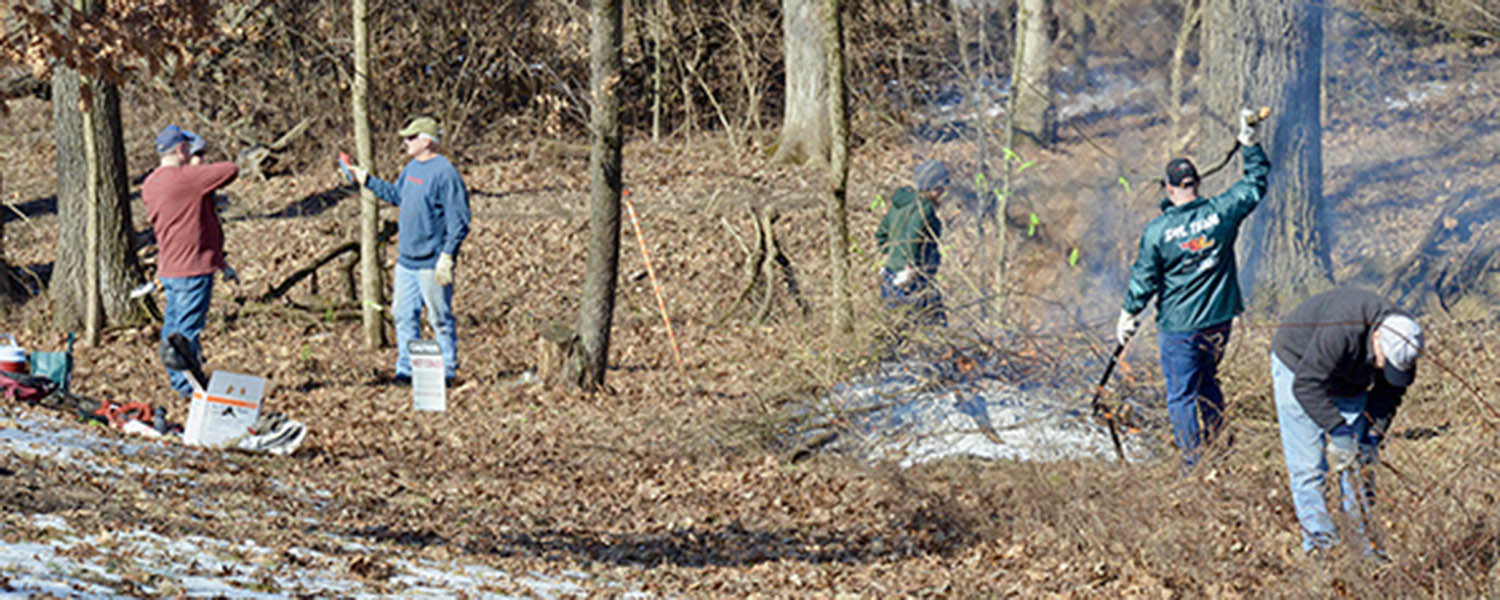 David Ventre, an avid mountain biker who lives on the North Side of Chicago, loves cycling through the Palos trails. Winding through rolling hills and deep ravines, the extensive Palos Trail Systems in south Cook County, offer beautiful views of the Forest Preserves.
"These are my closest trails,"  Ventre said on a sunny Saturday morning while taking a short break from removing invasive plants near Camp Bullfrog Lake in Willow Springs. "Since I ride them, I feel that I should work on them."
Workday funded by REI grant
Ventre, a lab manager at Northwestern University, was among a dozen volunteers participating in a workday funded by a grant from REI and the Forest Preserve Foundation. He's also a member of the Chicago Area Mountain Bikers (CAMBr) group, which builds and maintains all the single track trails in Palos.
On this morning in late February, CAMBr members and Forest Preserve staff cut branches and twigs from nearby honeysuckle, buckthorn, oriental bittersweet and barberry bushes. A fire fed by the dried wood crackled in a clearing near a ravine downhill from Camp Bullfrog Lake.  An earthy smoke filled the air. The heat from the fire provided warm relief from the morning chill.
"When we do workdays like this, it usually involves clearing areas near trails," Jerry Stoeckigt, CAMBr trail director, explained. Mountain bikers who belong to the 26-year-old organization, which has 750 paying members, "are very active as far as both participating on and building what they use."
CAMBr is a volunteer organization of hundreds of riders who have donated thousands of work hours to build and improve area trails. Its mission includes ensuring that mountain bikers "have diverse and challenging opportunities to enjoy their sport," according its website.
While keeping trails cleared for bikers adds to their safety and enjoyment, it also benefits the ecological health of the Forest Preserves of Cook County.
Last year the Forest Preserve Foundation received a grant from REI, the outdoor equipment retail chain, to enhance trails in the Palos area.
"REI is very interested in recreation and getting people outdoors," said Rebecca Colling, a senior ecologist for the Preserves, told the volunteers. "So you're out helping us meet our grant requirements today. So thank you."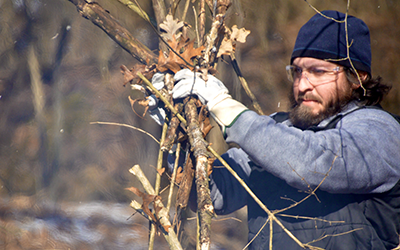 Protecting an important landscape
Colling said that removing the invasives would improve the view from the trail. "And as important, [this] is the area where we know the most conservative plants are hanging on," she said, pointing toward the slope.
Getting the invasive plants out of the way also allows more light to reach the vital native plants that the Preserves wants to protect and conserve. Honeysuckle is the most dominant invasive in the area where the volunteers worked that morning.
"Lots of the Palos area is infested with honeysuckle," Colling said, explaining why this particular area was chosen. "If you look over there," she said, pointing to a spot down the slope, "you'll see there's an area where there's really no tree canopy. We're focusing on the area that was an oak woodland prior to Forest Preserves ownership. Unfortunately, it's filled with a lot of invasive species, but we feel this has a better chance of having some recovery potential because we still have the canopy oak trees."
Invasives can quickly take over trails, Ventre said. "If you don't maintain [trails], they disappear very quickly. On some trails, you go a couple of weeks, then you can't see them."
Ventre was happy to do his part to make sure that doesn't happen and trails are open and welcoming to everyone.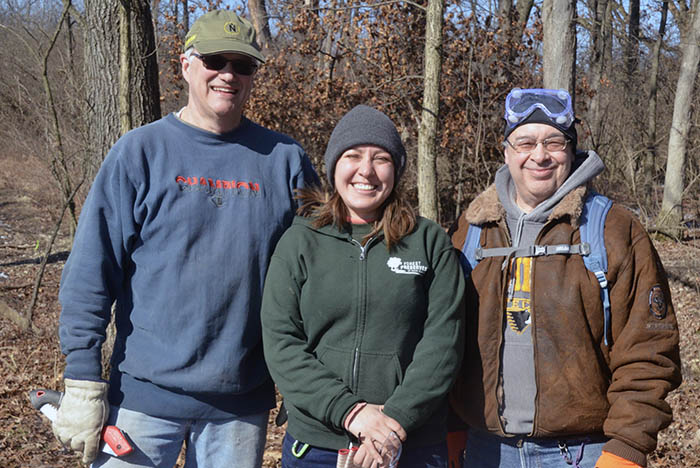 Jerry Stoeckigt; Raquel Garcia-Alvarez, volunteer stewardship coordinator for the Preserves, and David Ventre.